I'm speaking on the Feast of St. Francis next Sunday at church, and since I'm devoting my posts in October to my 31 Days to a Meaningful Morning series, I wanted to share my reflections with you here ahead of time. You'll find my sermon, along with the corresponding readings (my church gets a little creative with the liturgy) below.
READINGS
Psalm 148:7-14
"Wild Geese" by Mary Oliver
Matthew 11:25-30
---
Each year in early October, we mark the Feast of St. Francis in the Liturgical Calendar. Since St. Francis is known as the patron saint of animals and ecology, the Feast of St. Francis is traditionally a day when parishioners bring their pets to be blessed.
Apart from a cat that my family had for a season, I didn't grow up with pets. Because of this, I could never fully understand the connection people had with their pets, particularly the dogs that yipped and barked and jumped up on me without my permission.
However, in February of last year, something within me shifted. I was reading Eckhart Tolle's bestselling book, A New Earth, hungry to be more present in my daily life. In the book, Tolle says that, because of their connection to all of creation, animal companions can help bring us beyond the ego and into the present moment.
So when Kyle's cousin called not long after, asking us to welcome her own dog into our home because she could no longer care for him, my "yes" was sourced from deep within. Sam is a rescue—a tiny toy poodle/terrier mix—who was dropped off on a stormy day outside a shelter four years ago around the age of ten.
Because of his past, Sam is a timid dog. Some might find this discouraging, but I've discovered it to be a gift. Sam's vulnerability has brought forth within me a love that I have never known before. He has softened and humbled me, and as my connection to Sam grows, I also feel a growing connection to my True Self and to the Sacred in ways both wild and nurturing, simple and profound.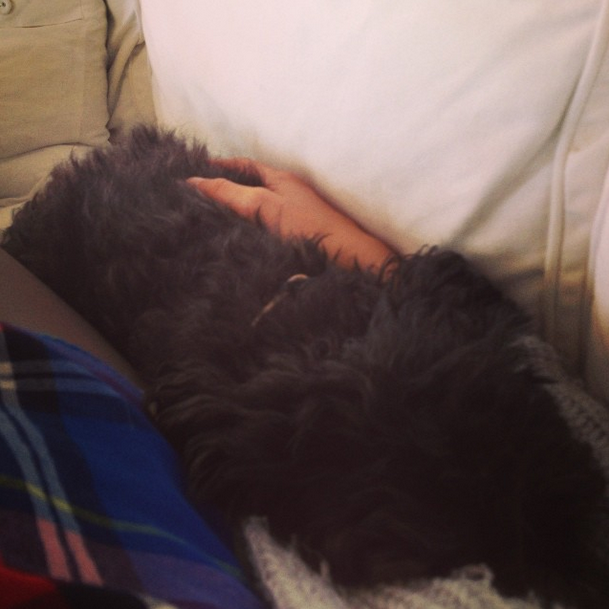 Now, I can't imagine my life without Sam, or, as Kyle and I like to refer to him—Pups. And in moments when I get wrapped up in the demands of the world and the tasks at hand, I look over at Sam sleeping, and the gentle words of Mary Oliver in her poem, "Wild Geese":
"You do not have to be good," she offers. "You do not have to walk on your knees for a hundred miles through the desert, repenting. You only have to let the soft animal of your body love what it loves."
Mary Oliver's words are not so different from Jesus' invitation in Matthew 11:28: "Come to me, all that are weary and carrying heavy burdens," he says, "and I will give you rest."
What a welcome invitation this is in a culture where we can't ever quite seem to do enough, have enough, be enough. It is the very gospel—literally, good news—that our world needs today, and it seems that things were not so different in the time of St. Francis nearly 1,000 years ago.
As the son of a silk merchant, St. Francis grew up in wealth. He had the world at his fingertips and a prosperous future ahead of him in the eyes of the Italian aristocracy. However, a spiritual crisis as a young adult led him to abandon his wealth and instead take up a life of wild simplicity as he proclaimed the gospel of Jesus Christ.
St. Francis sought to so closely mirror the life of Jesus that he was the first person reported to have received the stigmata, bearing in solidarity the wounds of Christ. He lived the rest of his life attuned not to the world, but to the presence of the Holy Spirit within, advocating for peace in times of war, repentance in times of corruption, and simplicity in times of extravagance.
Vowing to live a life of poverty, St. Francis no longer measured abundance in material possessions but rather in the gifts of creation. He received joy not from the cares of the world, but instead through service, community, and, of course the animals whom he considered friends.
Conjure up images of St. Francis in your mind and you'll likely picture a man in a simple brown robe, kneeling in prayer outside of a cave or with arm stretched out and a bird in hand. There are numerous stories of St. Francis preaching to and communicating with animals. And it is also well known that he held a deep reverence for creation, referenced in his Canticle of the Creatures in which he praises God for "Brother Sun," "Sister moon," "Brother Fire," and "Mother Earth," each in their own way pointing him to the Divine.
This, of course, reminds me of my dog, Brother Sam, and how he opens my heart, stills my soul, and fills me with gratitude—all things that draw me closer to my True Self and to God. Which makes me wonder—perhaps St. Francis had such a deep connection to animals not because he was a zealous evangelist fighting for birds' souls, but instead because all of creation served as teachers on his spiritual journey, proclaiming to him a gospel of wild simplicity in a way that those of us wrapped up in things of this world often cannot.
"You have hidden these things from the wise and the intelligent and have revealed them to infants," Jesus says in this evening's gospel reading.
What if the mysteries of life do not belong—as our culture might make it seem—to those who make the rules, but instead to those who live simply—those whom the world considers "the least of these"? What if the Kingdom of God were not something to work toward in the future, but rather something that is experienced in the present moment as we practice the wild simplicity that was so well-modeled in both Christ and St. Francis?
And what if we were to remember St. Francis not by blessing the animals, but instead by being blessed by the creatures St. Francis so candidly revered?
GO FURTHER..
How have you been blessed by animals? What have your pets taught you about the Divine and the path of wild simplicity?
Like this post? Sign up below to receive updates on offerings, products, and free resources so you don't miss a thing! You'll also receive an instant download of the Principles Rule of Life, including seven guideposts and practices for living and traveling like a pilgrim.
Privacy Guarantee: Your information will never be shared. View Privacy Policy.