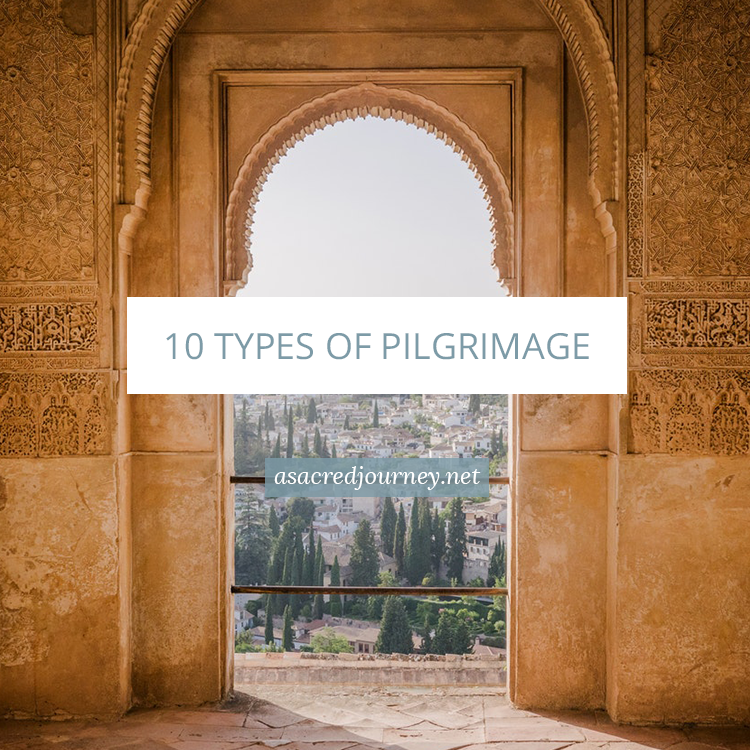 While pilgrimage might be a single spiritual practice, there's no one way to do it.
Here are 10 types of pilgrimage, from outward journeys to inner ones and ancient destinations to modern:
TRADITIONAL PILGRIMAGE
A traditional pilgrimage is a centuries-old journey to a well-known Sacred site.
In Christian spirituality, the most significant traditional pilgrimage destinations throughout time are the Holy Land, Rome, and Santiago de Compostela (this journey is often called "The Camino," meaning "The Way"—learn more here). Other well-known traditional pilgrimage sites through the ages include the various Sacred sites of Ireland the holy Isle of Iona, both important to Celtic spirituality.
more on traditional pilgrimage »
ANCESTRAL PILGRIMAGE
We all come from somewhere, and as we seek to know more of ourselves and God, it is likely that a time will come when some of the answers to our questions lie in the past, in lands that our ancestors once called home.
Ancestral pilgrimage is especially intriguing to those whose ancestors immigrated to the nation in which they live today, but can also be significant for those whose family has been rooted for quite some time. In either circumstance, ancestral research and pilgrimage reveals more than a place from which ancestors came—it reveals a story in which we are participants, and yet it is far greater than ourselves.  It not only tells us where we come from but also can inform and inspire where we go.
SABBATICAL
Sabbatical is most common in academic vocations, but the concept of sabbatical is valuable to all and has biblical roots.
The idea with the concept of biblical sabbatical is to allow the land typically cultivated to remain fallow, letting it go wild for a year. While this is still practiced in agriculture today, some farmers use this as an opportunity to grow another crop for a season. Informed by the values of the agricultural metaphor, the vocational sabbatical practiced today is an amazing opportunity to pause your work and cultivate something new and wild.
MISSIONAL PILGRIMAGE
I'll first start by saying that I made this term up, but have been inspired to explore the intersection of pilgrimage and missions because of my own experience. Perhaps you feel the same way, too?
I spent five months on a foreign mission experience in Uganda right after college. While there, I noticed a significant paradigm shift between my past short-term mission trips and my time in the village of Namaliri. I was living amongst the people I was serving, and they were serving me in return.
Even though I will always remain the "mzungu" (what they call a white person) and will forever stand apart because of my privilege, over time we all became members of one community. We learned from and depended on one another, and were challenged and enlightened by the other's experience of God.
Missional pilgrimage doesn't have to be five months, but it isn't a time to attempt to westernize those you serve in lifestyle or belief, nor is it a time to maintain our Western comforts when they are out of place. Instead it is a journey of intentionality, where you share life with those you visit and believe that they have just as much to bring to the table.
more on missional pilgrimage »
PILGRIMAGE OF CULTURAL OR PERSONAL SIGNIFICANCE
Maybe your dad was a big Red Sox fan, and a year after his death you finally make it to Fenway Park. Perhaps you're a fan of the beat poets and long to spend an afternoon at City Lights Books in San Francisco. It might be that you've practiced yoga for ten years and hope to one day unroll your mat in the land of its birth. Maybe the beauty of Paris simply makes your feminine spirit come alive.
You don't have to explain it. What you're passionate about and what ignites your fire is unique to you, and following that spark brings forth moments of sacred encounter. What place is uniquely beckoning you?
more on pilgrimages of cultural or personal significance » 
OUTDOOR PILGRIMAGE
In our world of busyness and chaos, it is vital that we step away from the things we can control (and subsequently tend to control us) and spend time in the world not made by humankind, but by God.
Oftentimes nothing can reorient you more to the transcendent than a journey to the mountains or the expansive sea. Trees have grown for centuries and flowers have bloomed each spring for generations. Listen closely; watch them for hours. Can't you hear the wisdom they're trying to tell you—the truths they're trying to show you?
Whether a simple day hike or an extended solo journey, nature always has a way of turning us into pilgrims.
WALKABOUT
Traditionally, a walkabout is a rite of passage for male Aborigines in which they wander through the bush for up to six months. Because of its reference to wandering, I use the term to describe the journeys we are invited to take which are brought forth by the unpredictability of our lives.
More often than not in life, things do not go as planned and we are presented with a new season and a choice. Whether the new season is initiated by the loss of a job, the dissolving of a relationship, or the death of a loved one, we can choose to deny the invitation to journey that is handed to us, or we can courageously surrender to the season at hand, facing its challenges head on and receiving its blessings in full.
If we see the invitation as serendipitous and divine, the journey on which we embark can be life-altering.
RELOCATION
As with the spirit of the walkabout, sometimes a move springs up on us. At other times we relocate ourselves with great purpose, whether we are pursuing the place itself or what it has to offer.
Though a move is more seemingly permanent than a typical pilgrimage, when relocating we are still embarking on a journey, which when approached with intention can bring forth transformation.
RETREAT
Many people who attend a church are likely familiar with retreats. Retreats can serve as mini-pilgrimages during which we are invited to leave our everyday lives, learn from wise teachers, ask difficult questions, and try new things, all the while being reminded of what it means to take care of ourselves—mind, body, and soul.
Another type of retreat is one of silence and solitude, often taken at a monastery or secluded retreat center. Challenging and provocative, the space available in a retreat made in silence and solitude brings us face to face with the True Self and God and can be the most difficult and yet most rewarding practice.
INTERIOR PILGRIMAGE
While it's last on my list, it's certainly not least, because in reality, with each type of pilgrimage listed above, we are also on an interior pilgrimage.
Interior pilgrimage describes the inner spiritual journey of the pilgrim. It is the foundation and inspiration for all other journeys and is rewarded by their fruit. It is the journey of a lifetime, the journey of a season, the journey of a day, and the journey of a moment.
Only when we forget that we are on an interior pilgrimage do we go off course. Spiritual practices are vital in remaining present to our ongoing interior pilgrimage. As time goes on we will explore many spiritual practices to fuel the journey, but until then, a good place to start is with a Rule of Life.
GO FURTHER…
Which type of pilgrimage is beckoning you?

Like this post? Sign up below to receive updates on offerings, products, and free resources so you don't miss a thing! You'll also receive an instant download of the Principles Rule of Life, including seven guideposts and practices for living and traveling like a pilgrim.
Privacy Guarantee: Your information will never be shared. View Privacy Policy.