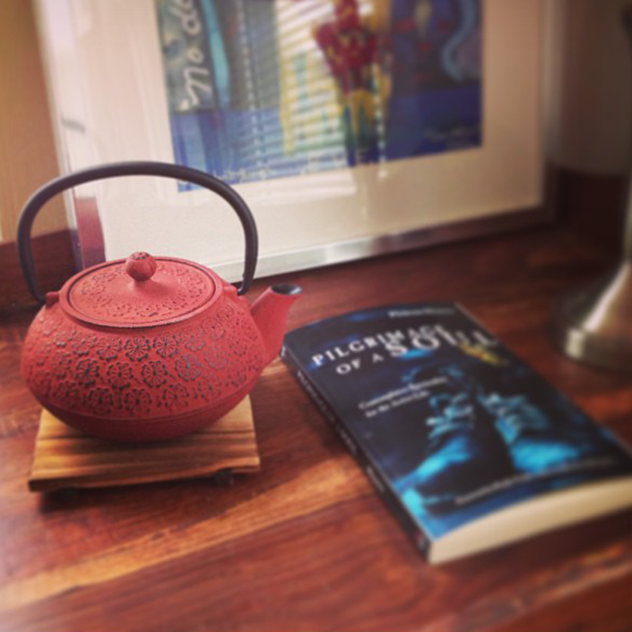 Over the past week or so, I've been enjoying slowly going over your responses to the Spring Reader Survey (I plan on giving them my full attention after my print shop launches on June 23). Even though I don't personally know many of you, after reading your responses, I feel like I know something more of your desires, your questions, and your spiritual journey, and it is a gift to have you share those things with me.
One thing that stood out in your responses is your hunger for spiritual practices. In response to my question about which types of post you like best at A Sacred Journey, posts on spiritual practices ranked highest at 85 percent, with posts on intentional living not far behind. With that insight, along with my recent announcement of the beginning of the Spiritual Practices Library of mini guides coming in the fall, I've been wondering for my sake and for yours, What is a spiritual practice anyway?
When I begin to try to answer that question, what comes to mind are examples. You've got the seven ancient practices recently brought to light again by The Ancient Practices Series, edited by Phyllis Tickle—sabbath, tithing, praying the hours, the liturgical year, Eucharist, fasting, and pilgrimage (my personal favorite, of course).
There are practices specific to contemplative spirituality, many stemming from the desert fathers and mothers, such as lectio divina, centering prayer, examen, walking the labyrinth, and even spiritual direction and companionship.
And then there are other practices that have been adopted from spiritual traditions beyond Christianity, such as yoga and meditation.
But naming various types of spiritual practices doesn't really answer the question of what a spiritual practice actually is. You could, of course, look deeper at the meaning behind the words, perhaps drawing significance from synonyms. But people aren't too fond of thinking of spiritual practices as disciplines—it's hard enough to understand the word practices as is.
It's likely we all first encountered the word practice in childhood, when we practiced sports to become better athletes or piano each day to prepare for the big recital. I, for one, wasn't a fan of practicing piano (and I didn't like sports enough to want to practice them, either). I was supposed to practice piano for thirty minutes each day, and I hated practicing so much that I wanted to quit taking piano lessons all together.
I remember expressing this to my mother more than once as I slumped at the piano bench in resignation after losing out to the metronome once more. "No," my mother would reply from the other room. "You can't quit piano because my mother let me quit when I wanted to and I've regretted it ever since." (I will confess, she was right. I'm glad she told me no, and I'm glad she made me practice.)
My days of taking piano lessons and having to practice each day are long behind me, but my younger brother, on the other hand, has turned practicing piano into a full-time job. He recently graduated from college, where he was a piano performance major, and is off to graduate school in the fall for the same thing. He practices eight hours a day when he's able—the same pieces day after day, hour after hour, until the time comes to perform them for a recital or juried performance. And then he starts all over again.
He becomes better and better with each session, no doubt. But between you and me, I couldn't imagine anything worse.
No wonder people struggle with the idea of spiritual practices when practice in our culture is a means toward achieving a goal. While routine is at the root of all practice, spiritual practice as not about perfection. Practice as a means to perfection is great for mastering a tennis serve or a piano fugue, but the spiritual journey is an entirely different paradigm.
The spiritual journey is a never-ending pilgrimage—a continuous cycle of departure, arrival, and return. It isn't something to be mastered; rather, it is something to be lived.
This is where intentional living comes in. If the spiritual journey is something to be lived, then spiritual practices help bring us back to our intention. They serve as an invitation to actively journey, to open ourselves toward Sacred Encounter, and to listen deeply to our Inner Witness—the indwelling of the Holy Spirit and the place within us where the true self and the Divine meet.
This could happen through one of the tried-and-true spiritual practices mentioned earlier. But the places we are passionate bring us back to our intention as well. For you, this might happen through making music or hiking in the wilderness. These days, creating space is feeling more and more like a spiritual practice for me—in my schedule, in my home, and especially in my mind.
But here I am naming examples again. (It's hard not to, isn't it?) Still, I think we're close to a more suitable definition. So, what is a spiritual practice anyway?
A spiritual practice is a regular rhythm that calls us to return and remember—to return to our intention and remember what it is that we seek.
GO FURTHER…
What invites you to return and remember? How can you turn that into a spiritual practice?
Like this post? Sign up below to receive updates on offerings, products, and free resources so you don't miss a thing! You'll also receive an instant download of the Principles Rule of Life, including seven guideposts and practices for living and traveling like a pilgrim.
Privacy Guarantee: Your information will never be shared. View Privacy Policy.