This past March, I visited Ireland for the first time.
I joined a group of ten other pilgrims on a pilgrimage facilitated by Christine and John Valters Paintner of Abbey of the Arts.  For eight days, we visited Sacred sites along the western coast of the Emerald Isle, with each day's theme focusing on a different practice that encourages us to be Monks in the World.
On the first evening of our journey, as the pilgrims gathered together in Christine and John's living room to orient ourselves and learn names, Christine asked a question I had not yet had the time to ask myself: "What is it that brings you here?"
The weeks and months preceding the pilgrimage were chaotic at worst and busy at best, and the roller coaster that was my life in that season didn't come to a halt until days after I had been on Irish soil. Professionally, I knew why I was on the journey—Christine has been a generous advocate and mentor since before I started my work with A Sacred Journey, and I wanted to learn more from her about leading pilgrimages. Emotionally and spiritually, though, my desires were unclear.
Amidst all of the coming and going, I had not yet had the opportunity to pause and wonder what the deeper question was behind my quest. As someone who writes about pilgrimage and is continually inviting others to engage their own journeys with intention, I was deeply embarrassed. I felt like a fraud. How am I supposed to lead others on journeys if I myself had failed to be attentive to the journey at hand?
But, as someone who writes about pilgrimage and is continually inviting others to engage their own journeys with intention, I was also aware that I will forever be on a journey (pride be damned), and the invitation to re-engage the journey with intention is always there for us, waiting for our acceptance and surrender. "Always, we begin again," St. Benedict said. And so, I did.
After sharing the questions, hopes, and longings that brought us on this journey to Ireland in that moment in time (or, in my case, wondering what they might be), we left our first gathering that night with the invitation from Christine to "receive" a seven-word prayer about the journey ahead.
The invitation prompted within me a deep sigh of relief. Could it be that, although I myself had not diligently prepared for my journey (as a Type A person always should), God had already laid out the path and spread a table before me and all I needed to do was surrender and receive? (Note to my future self: this is always the case.)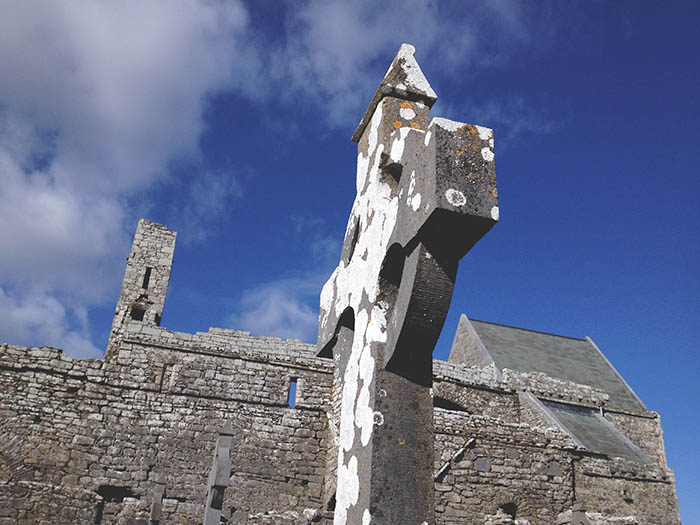 Over the next few days as we hiked through fields to ruined monasteries and abandoned holy wells, chanting together or listening in solitude to what was stirring within us at each stop, I played with words that might become my prayer, turning over the rocks of my emotions and hoping to uncover a seven words sourced from the Sacred desire hidden underneath.
Then one afternoon in Galway, after we returned from our daily trek to encounter the Sacred, the words came. I was crossing a bridge over the River Corrib, on my way to Christine and John's apartment for our evening gathering, when I paused. Something about the force and speed of the river resonated with me. It felt akin to the weeks and months that led me there—the pace of my days, my crowded mind, my weary soul.
Despite my best efforts to avoid it, I couldn't escape from this season of uprooting (which included five weeks away from a home that didn't really feel like home yet). If I wanted to feel grounded, I would need to find a way to center myself in the midst of the chaos, and the words that arrived that day provided me with an answer:
Sink in deep beneath the rapid river.
I have always been drawn to water in a mystical way, so in that moment I knew the words I was receiving were an invitation from God (not to mention that "sink in" was the word/phrase I received only months prior in the New Year for the year ahead, also by Christine's prompting).
Over the course of the trip, we encountered water in many new ways, each instance adding a new line to my prayer and another invitation from the Divine to find the source of Life in the midst of chaos. As our journey came to our end, so did my prayer, its final phrase revealing the path God had been laying before me there in Ireland all along:
Sink in deep beneath the rapid river.
Surrender to the ocean's roar.
Sit quietly beside the trickling stream.
This is what you came here for.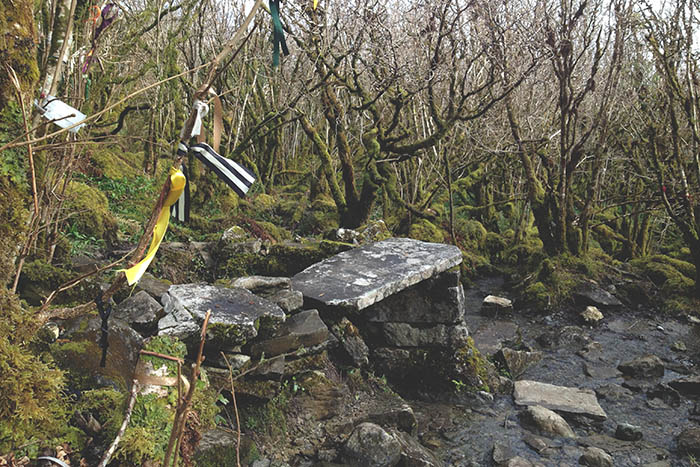 I'm returning to Ireland again next March, this time to co-lead a pilgrimage for young adults in their 20s and 30s with Christine and John.
 On this journey, we'll gather near a different body of water, Glendalough, and I look forward to discovering what it has to teach me along our journey's theme, "The Soul's Slow Ripening."
The Celtic Christians were right—creation is truly revelation. We just need to slow down long enough to receive its Sacred message. The green hills, cool waters, and harsh winds of Ireland are calling me back to its landscape once more, inviting me to learn from the Celtic wisdom that echoes across that Emerald Isle on the edge of the world.
If you're in your 20s or 30s and feel a tug to journey to this Sacred edge and listen closely to its ancient wisdom, I'd love for you to join us. The deadline to register for this transformative journey is next Wednesday, September 17. Feel free to contact me with any questions you might have.
GO FURTHER…
Have you ever journeyed to Ireland? What did its landscape teach you? Leave your response to the questions or the post in the comments.
Like this post? Sign up below to receive updates on offerings, products, and free resources so you don't miss a thing! You'll also receive an instant download of the Principles Rule of Life, including seven guideposts and practices for living and traveling like a pilgrim.
Privacy Guarantee: Your information will never be shared. View Privacy Policy.