Until a few years ago when I discovered Joseph Campbell and the meaning behind the mythology I had learned years before, I didn't think much about archetypes.
To be honest, before then I feel like I had rarely heard (and even more rarely used) the term. But now, with some guidance from the work of Campbell (among others) and a little Jungian insight, archetypes fascinate me. I love anything that can give me more insight into my True Self (which is a token desire of my key archetype—more on that below), and so when I stumbled across the book, Archetypes: Who Are You?, by spiritual teacher Caroline Myss, I immediately put it on hold at the library. I picked it up just as I was finishing Barbara Brown Taylor's Learning to Walk in the Dark, and its ideas have captivated me since.
"The idea of the archetype originated with the great philosopher Plato and is at the core of the influential Swiss psychiatrist Carl Jung's analysis of human behavior," it says on archetypes.com, the site that accompanies the book. "Simply put, an archetype is a pattern of behaviors that, once discovered, helps you better understand yourself and others. Archetypes are the blueprints of your soul."
While I'm enjoying the book, I'm even gleaning more from the site that goes along with it. At archetypes.com, you can even take a free quiz to discover your top three archetypes. I took the quiz recently and received these results (which couldn't be closer to the truth):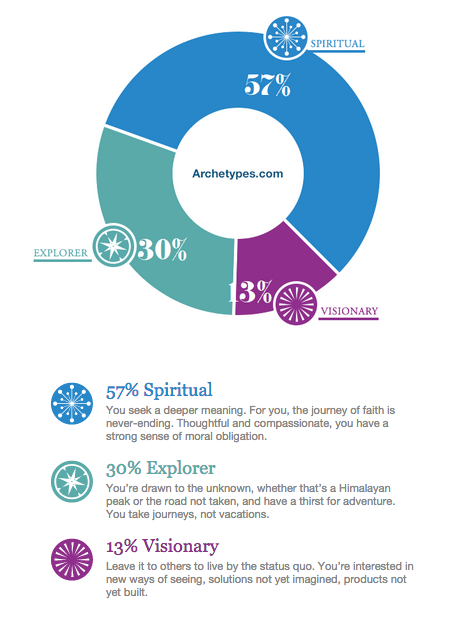 Once you take the quiz, you can further explore your archetypes, discovering the family within your archetype, your archetype's shadow sides, and even find tips for everyday life with your archetype in mind. You can also meet people with similar archetypes who are also seeking to know more of themselves since its a social network of sorts. I haven't used that part of it yet, but I have a feeling that if I did, it would leave me feeling a whole lot better than many late nights on Facebook.
One thing is certain: I'm pretty hooked!
GO FURTHER…
So, who are you? Take the archetypes quiz at archeytpes.com and then come back and share your results in the comments!
PS: the archetypes of famous religious figures
Like this post? Sign up below to receive updates on offerings, products, and free resources so you don't miss a thing! You'll also receive an instant download of the Principles Rule of Life, including seven guideposts and practices for living and traveling like a pilgrim.
Privacy Guarantee: Your information will never be shared. View Privacy Policy.