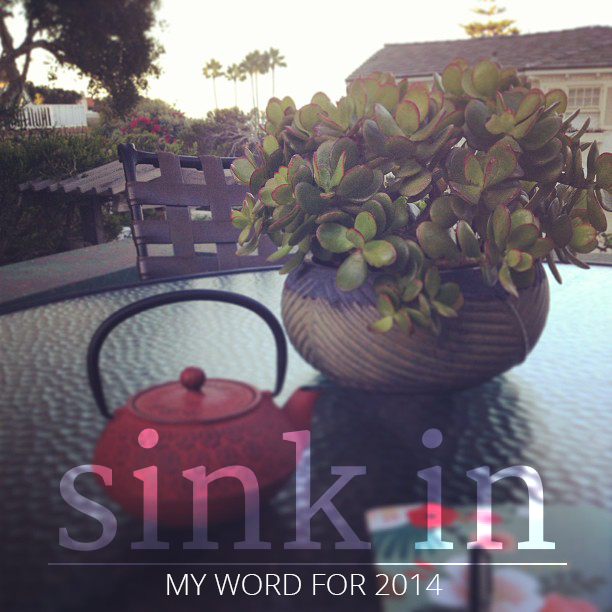 It's been less than a month since I gave this site a new look, a week since we've started a new year, and just a couple of days since I officially launched my book and began celebrating my new blog format with giveaways (enter Monday's here and Tuesday's here). And while I've only known my word (or phrase, really) for 2014 for just over a week, I can already feel its significance in this season, begging me to surrender—to sink in.
At the end of each year, Christine Valters Paintner, the online Abbess at Abbey of the Arts (who also wrote the foreword for my book and shared with us about planning a personal retreat last May), runs a free online course for her subscribers called "Give Me a Word." Instead of choosing a word for your year, Christine leads readers on a process in which the word chooses them, which is to say the word is given by the Sacred Guide, the Holy Spirit, the One who knows the path to our truest selves.
Though I've been following Christine for many years, this was the first time I set out to "receive" my word for the upcoming year, and while Christine offers many practices to bring inspiration as you wait attentively for your word to choose you, my word arrived surprisingly quickly, as if it were waiting in the wings. The word that chose me? Sink in. (Okay, I know it's two words, but I'm just going to keep referring to it as my "word" anyway.)
It's a word that will play less of a starring role in 2014 and more of a supportive one, but one that, if I am attentive to its gentle whisper, will alter my very way of being. And while it seems so subtle, it just so happens that the word sink in is the antithesis of the word that so often subconsciously drives me: grasp.
Grasp is a word and a feeling I am quite familiar with, and one that was woven throughout 2013 (and, indeed, my life thus far). 2013 was a year of courage for me, yes, and I don't want to discount that. I started A Sacred Journey and I wrote my first book, the latter an achievement I never would have imagined I would accomplish—not yet, anyway. But 2013 was also a year of wrestling—to find my voice, to find my vocation, to find my own trajectory. And with wrestling often comes its dark side, uncertainty, which isn't necessarily dark, per se, but in times of doubt always leaves me grasping.
As I enter 2014 things are looking a lot clearer. I'm settling into my voice, discerning my vocation (more on what's in the works soon!), and feeling better aligned with my path. I'm excited to be sharing and journeying here with you on a more regular basis. Now that my book is done, I'm also starting to do design work again, and I'm making plans to incorporating my design work with my work here at A Sacred Journey (be on the lookout for a shop with inspirational prints in the coming months!). And in the spring we'll be moving back to Seattle, a place we love with people we love, and a location we hope to settle in. With all of these exciting things ahead, it feels like I'll have many opportunities to sink in.
Of course, that doesn't mean the year won't also have moments and seasons of uncertainty and doubt, leaving me grasping. In fact, I had those feelings about 15 times on Monday, the day of my book launch, and I expect they'll keep up their regular appearances (they're always so dependable—how kind). The reality is, it is especially in such moments that my word for 2014 will be so important to bring to my attention, a whisper in my ear like the still, small voice of God amidst the chatter in my mind, calling me once more to sink in—sink into the tension, sink into the doubt, sink into my hopes, my fears, my desires—sink in.
Interested in "receiving" your word for 2014? There's one week left to participate in Christine Valters Paintner's free e-course when you subscribe here.
GO FURTHER…
What word is choosing you in 2014?
TODAY'S GIVEAWAY
One of my greatest tools as I've sought more clarity over the past year has been Danielle LaPorte's Desire Map and determining my Core Desired Feelings. (Mine? Freedom, fulfilled, centered, refreshed, and empowered, which I originally shared here and hope to write about in more detail someday soon.) Danielle's just recently re-launched The Desire Map à la carte-style, and it's better than ever. Today I'm giving away a copy of The Desire Map book so you can start determining your own Core Desired Feelings as you begin the New Year. To enter, follow the instructions below.
other giveaways you can still enter
TUESDAY'S GIVEAWAY
Yesterday I shared on my friend Ashley's blog, The Cream to My Coffee. Head on over to enter to win a copy of Pilgrim Principles: Journeying with Intention in everyday life. This giveaway is only happening at The Cream to My Coffee, so you must enter there to win. Click here to go to the guest post to enter. All entries must be made by Monday, January 13 at midnight PST. The winner will be contacted by Ashley of The Cream to My Coffee.
MONDAY'S GIVEAWAY
You still have time to enter for a chance to win a copy of the pilgrim-favorite, The Way, about a father's journey along the Camino de Santiago de Compostela after the loss of his son. Click here to go to Monday's post to enter. All entries must be made by Sunday, January 12 at midnight PST. The winner will be announced right here on A Sacred Journey on Monday, January 13.
Like this post? Sign up below to receive updates on offerings, products, and free resources so you don't miss a thing! You'll also receive an instant download of the Principles Rule of Life, including seven guideposts and practices for living and traveling like a pilgrim.
Privacy Guarantee: Your information will never be shared. View Privacy Policy.