Do you ever find yourself uprooted, disconnected, and in need of direction?
Throughout time, wisdom traditions have told us that if we're looking for guidance and Sacred connection, we only need to look within.
Though it might be hard to believe based on common theology taught in churches, even the Christian tradition claims this to be true, with the author of Genesis stating that we are made in the image of God, and Jesus himself declaring, "The kingdom of God is within you" (Luke 17:21). Other translations have Jesus stating that "the kingdom of God is at hand," which in the end is not too different—both interpretations share a similar message, which is that Truth is available right here, right now.
I believe that the more we become our True Selves, the closer we are to God, and vice versa—the closer we are to God, the more we become our True Selves. There's an intersection there—the Inner Witness—the place within in which the Sacred Guide dwells and the True Self and Divine meet.
This is the place we try to tap into in the practice of spiritual direction, and it's the place we seek in the practice of pilgrimage, too. Even though we might travel to far off lands in pursuit of insight and renewal, in the end, what we seek is right here, right now—the practice of pilgrimage simply gives us new ears to hear and eyes to see.
There are many tools and practices to help us identify the movement of God in our everyday lives and locate the Inner Witness—the intersection of the True Self and the Divine which dwells within. Some we know well, like prayer or reading Sacred texts. In the language of pilgrimage, we might refer to these practices as maps or guidebooks for the journey.
Then, there's the Pilgrim's Compass.
The Pilgrim's Compass is built within the heart of every seeker, its magnet the Inner Witness. It will guide the pilgrim to that which she seeks, but it cannot be read like a compass in the palm of your hand. Because the Pilgrim's Compass is sourced from a place deep within, the pilgrim must trust her intuition to guide her further along the path in her quest for the Sacred.
To utilize your Pilgrim's Compass and align yourself with the magnetic force of the Inner Witness, ask yourself this question at every opportunity: What is touching your soul? In other words, what in your exterior journey also feels connected to your interior journey by some strong magnetic force?
This is the pull of intuition, a word that is originally theological in nature, meaning "spiritual perception." Your intuition is a processing tool—a messenger between your inner and outer worlds—and will inevitably lead you closer to your True Self and the Divine. It is a sense built within us all, but can only become a resource on the journey when you exercise it, opening yourself up to its impulses to see where they lead.
This week, when you feel the magnetic pull of your intuition, take notice, focus in on the spark, and spend some time reflecting on that connection, opening yourself up to the invitation from the Divine hidden within. Who knows? It just might be the Sacred Guide beckoning you down a new and unexpected path.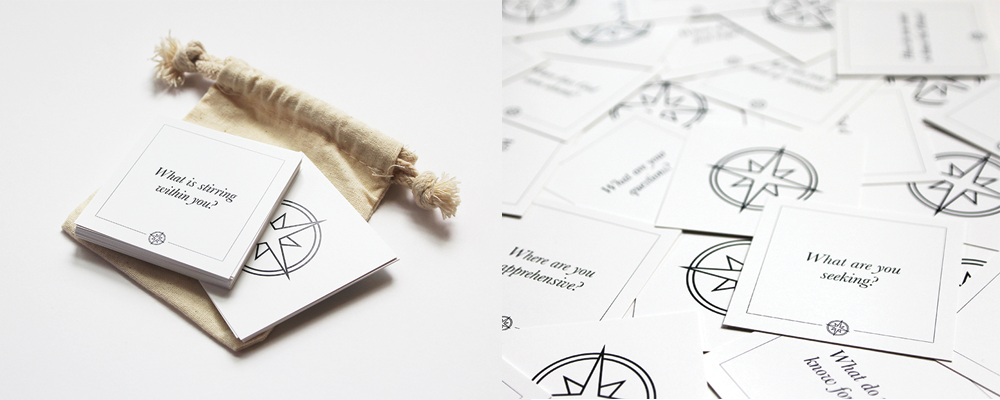 GO FURTHER: COMPASS CUES REFLECTION DECK
To help you practice using the Pilgrim's Compass and hone your intuition, today I'm releasing the Compass Cues Reflection Deck in the Journey Shop. 
This deck of cards contains 31 Compass Cues to help you align with your True Self, God, and the movement of the Divine on your pilgrimage of faith. Meant to be chosen at random and revisited again and again as each season of your life unfolds, these questions can be used for prayer, journaling, conversation, and more as a compass for the journey and a guidebook for the soul. Learn more in the Journey Shop »
---
LAUNCHING MAY 31
I'm launching my biggest project yet on May 31—Journey Guide: A Step-by-Step Pilgrimage Companion for the Journey of a Lifetime—and I'm counting down by releasing new products for the pilgrim at home and abroad every week this month. Sign up to receive updates so you don't miss a thing!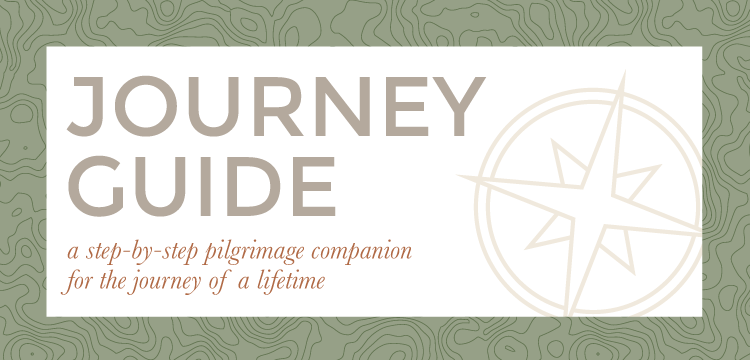 Like this post? Sign up below to receive updates on offerings, products, and free resources so you don't miss a thing! You'll also receive an instant download of the Principles Rule of Life, including seven guideposts and practices for living and traveling like a pilgrim.
Privacy Guarantee: Your information will never be shared. View Privacy Policy.