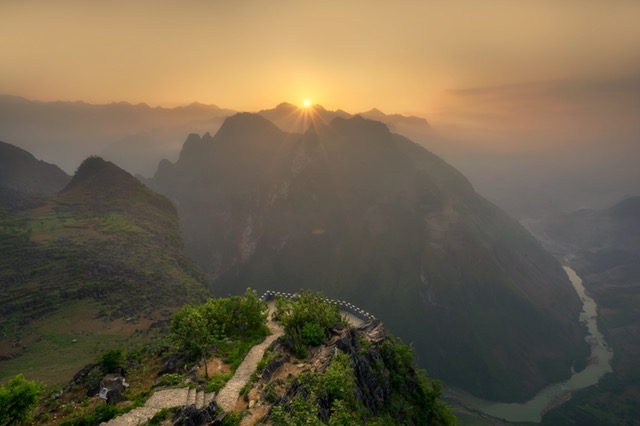 Is the invitation of the pilgrim calling to you?
If the practice of pilgrimage has sparked a search within you then you have arrived—arrived at a crossroads, the Path of the Pilgrim lying ahead of you. By intentionally following the Path you will be validating your soulful search, joining with many others on a spiritual quest not unlike your own.
THE PATH OF THE PILGRIM
The Path of the Pilgrim gives an entry point for our exploration and provides formation in three ways: shaping your daily life, shaping your physical journeys, and ultimately shaping your very way of being.
your daily life: the pilgrim at home
The Path of the Pilgrim is not simply something you choose to follow when you are ready to begin your literal journey, bags packed and ticket in hand. Just like faith, the Path of the Pilgrim is one that you must intentionally enter in the day-to-day. In order to prepare yourself for the physical journey, you must first surrender to the daily path.
It is the journey in—the daily interior quest for the Divine—that you embark upon as you set down the Path of the Pilgrim. The journey in both guides and drives the pilgrim, serving as the pilgrim's foundation as it brings the seeker closer to the True Self and to God.
Find resources for the pilgrim at home »
your physical journeys: the pilgrim abroad
The physical journey is the next step on the Path of the Pilgrim. As we become more comfortable at the path's outset, we must not forget why the metaphor of life as pilgrimage is so meaningful. It's meaningful because it is inspired by the transformative capacities of the physical journey—a time and place set apart when we are fully present and wholly and intentionally devoted to that which we seek.
Find resources for the pilgrim abroad »
your way of being: the pilgrim in all of us
As you continue on the Path of the Pilgrim, allowing the lens of pilgrimage to inform your journeys at home and abroad, the pilgrim on a Sacred journey becomes your very way of being. The pilgrim truly is a part of all of us, and in a way, we share the journey, for ultimately our search is a common and timeless search for the True Self and the Divine (we are, after all, made in the image of God).
GO FURTHER…
Where are you on the Path of the Pilgrim? Do you encounter the Sacred in your daily life? Have you taken a physical journey in search for the Sacred? Whether at home or abroad, how has search for the Sacred influenced your way of being?

Like this post? Sign up below to receive updates on offerings, products, and free resources so you don't miss a thing! You'll also receive an instant download of the Principles Rule of Life, including seven guideposts and practices for living and traveling like a pilgrim.
Privacy Guarantee: Your information will never be shared. View Privacy Policy.