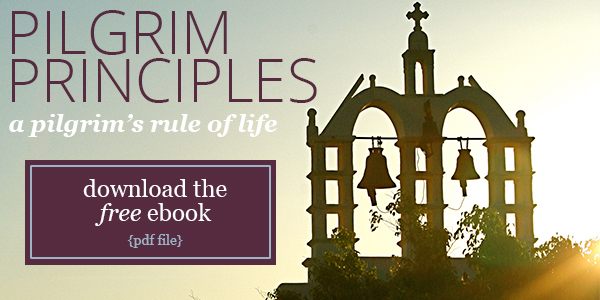 Our lives are governed by systems, whether we are aware of it or not.
Measured by our daily routines, our priorities, and our worldview, the systems in which we live determine both who we are and who we are becoming. However, just as a pilgrim sets an intention for her journey, engaging in her quest and opening herself up to transformation, we can be intentional about the systems that form our lives.
One way we can be intentional is through structuring our lives each day with the quest of the pilgrim in mind by creating and participating in a Rule of Life.
A Rule of Life is a set of guidelines that help us to remain intentional in our interior journeys, daily routines, and communities. Developing and living by a Rule of Life is an ancient tradition practiced by religious communities and individuals alike for centuries.
Well known Rules of Life include the Rule of St. Benedict, practiced by Benedictine communities, as well as the Rule of St. Francis, practiced by Franciscan communities. With the rise of the neo-monastic movement in Christianity today, many modern communities are doing this as well, developing Rules of Life that are both counter-cultural and deeply engaging.
In Pilgrim Principles: A Pilgrim's Rule of Life I share with you a Rule of Life I've developed with the pilgrim in mind. Written through the lens of pilgrimage, this Rule allows us to maintain the posture of a pilgrim both at home and abroad. With each principle, I offer suggestions on how to put it into practice.
inspiration for my book, Pilgrim Principles: Journeying with Intention in Everyday Life
It is my hope that you are inspired by this Rule and the suggested practices, and that you will engage them and make them your own.
It is important to note, however, that a Rule of Life is not something that we strive to achieve, but rather a basis from which we live. So as you begin to apply these Rules, be sure that you begin your practice from the place where you are.
If you do, I am confident you will discover the pilgrim inside.
GO FURTHER…
As you read through Pilgrim Principles: A Pilgrim's Rule of Life, I'd love to know your thoughts and experiences, as well as any new practices that help you live by this Rule of Life.
Like this post? Sign up below to receive updates on offerings, products, and free resources so you don't miss a thing! You'll also receive an instant download of the Principles Rule of Life, including seven guideposts and practices for living and traveling like a pilgrim.
Privacy Guarantee: Your information will never be shared. View Privacy Policy.