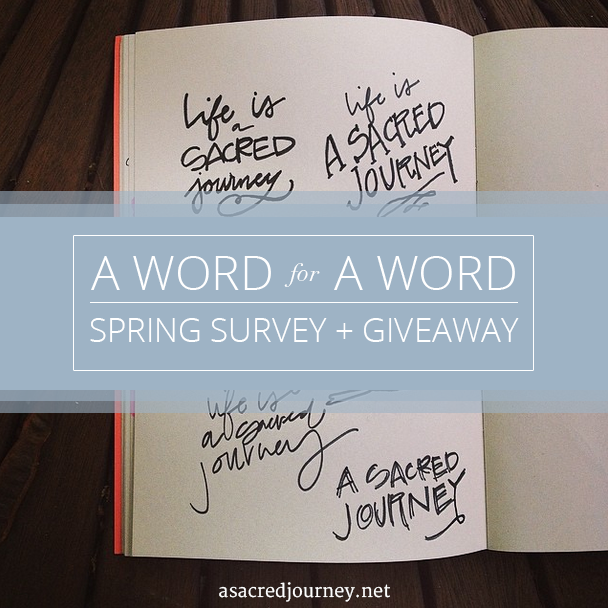 As you might know, I'm in a season of asking "What's Growing?" here at A Sacred Journey. (If you don't know, read my post
here
.) Part of that process is hearing from you. As I contemplate what's next for A Sacred Journey, including content and offerings, I'd love to know how you found A Sacred Journey, what kind of posts you love to read, what's been inspiring you lately, and more.
And just to get you excited about what is to come, I'll let you in on a little secret: The first thing I'll be launching in June after my period of pondering what's growing ends is a shop filled with prints to inspire, each designed by me. Put them on your bulletin board or your bathroom mirror, in your favorite frame or in a special place in your Sacred space—no matter where they find a home, these prints will serve as a reminder that life is a sacred journey. (Get a glimpse of my preliminary doodles above.)
As a thank you gift for your feedback, I'll give you your choice of one print from the premiere collection once it launches in June. To get your free print, all you have to do is fill out the survey (with your email address included) by Saturday, May 31st.
A word for a word. What do you say?

PS: Congratulations, Kierin E.! You've won last week's giveaway of Claire Díaz-Oritz's new book, 
Hope Runs
. I'll connect with you soon to get you your prize!
Like this post? Sign up below to receive updates on offerings, products, and free resources so you don't miss a thing! You'll also receive an instant download of the Principles Rule of Life, including seven guideposts and practices for living and traveling like a pilgrim.
Privacy Guarantee: Your information will never be shared. View Privacy Policy.