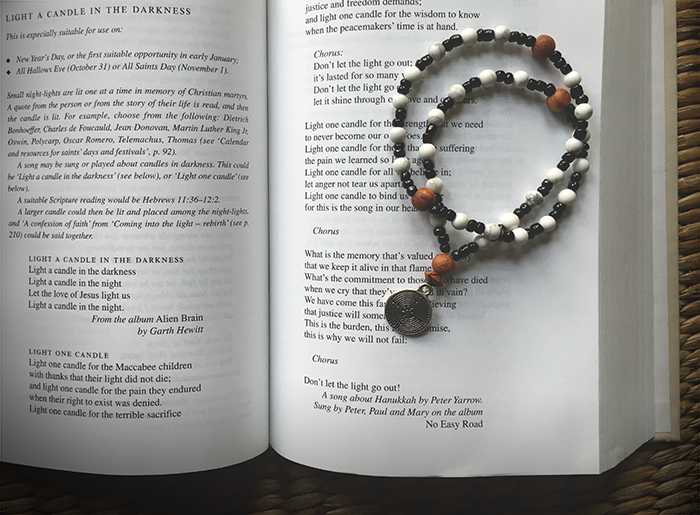 Two days ago marks six months since it happened, which seems like a significant date to remember.
Instead, the date on my mind as it draws ever nearer is March 5—the day my baby would be due. Just six months ago and only six weeks in, I had a miscarriage. It was my first pregnancy, and we've been struggling to get pregnant since.
Last year my word for the year was "release." It arrived like it has the past few years, through Christine Valters Paintner's "Give Me a Word" process. In imitation of seekers long ago who asked the desert fathers and mothers for a word to guide them on their journeys, we ask God for a word to guide us in the year ahead. It's often a slow unfolding, which feels natural to a contemplative way of being, but when the word does arrive it has a way of feeling as if it were right all along. Once "release" came to me to guide me through the year last year it felt right in an instant.
"The invitation to release is both a gift and a challenge," I said in my reflections last year, "which seems to me a good indication that it is indeed an invitation from the Divine—one who seeks to both bless us and guide us on the ever-evolving path of transformation." I had plenty of things I was eager to release—fear, expectations, stressors, and doubts. However, one thing I didn't expect to release—not long after I finally allowed myself to believe it to be true and long before I was able to share the news with others—was the fruit of my womb.
The labyrinth of life is filled with twists and turns, and more often than not it's hard to see where you're going. As I gathered with family for the 100th anniversary of a hometown fair last July, I certainly didn't see my miscarriage coming. In the same way, in the days and weeks following my miscarriage—so determined to erase this pain and right this wrong—I never thought we'd be trying for six more months without success.
This past New Year's Eve, I rang in the new year by walking a labyrinth at St Mark's Cathedral here in Seattle. I knew that while the year that held such unexpected loss and sorrow was coming to an end, the journey was far from through, and as the clock struck midnight, I wanted to mark that in some way. In the final minutes of 2015, I wound through the labyrinth's path as I looked back on my journey through the lens of "release," reflecting on where the year had taken me and pondering what my word might be for the year ahead.
As I settled into a rhythm, the movement reminded me of the first time I walked a labyrinth of that size during the previous year. It was on the outskirts of the ancient monastic city of Glendalough during the young adult pilgrimage I co-led with Christine and John Valters Paintner of Abbey of the arts. Being just a few months into 2015, the word "release" was still fresh and filled with opportunity, and so I intended to meditate on my word for the year throughout my walk. However, as I entered the labyrinth with word "release," it wasn't long until the word "receive" came to accompany it, becoming just as partnered with the process of releasing as breathing in is to breathing out.
When it comes to my desire to have a child, I have entered the labyrinth, no doubt. Of this I can be certain. As of now, I don't know when I will reach its center—sometimes referred to as a womb—nor do I know when I will begin the journey outward, taking the gifts of the path with me as my souvenirs. All I know is that I am on the path, winding back and forth between hope and doubt, caught somewhere between "release" and "receive."
Back in the labyrinth on New Year's Eve as I remembered my Glendalough labyrinth walk and looked back on a year filled with unexpected release, I wasn't surprised to discover the word "receive" arising as my word for 2016, with the word "release" coming along for the journey, refusing to be left behind.
As I enter 2016 I carry both "release" and "receive" with me, partnered together as one as I move along this winding path, continuing to move forward, breathing in and out with each passing day. It's hard to say what I've learned on this journey—harder, in fact, with each passing month. However, just because I don't quite know when I will be able to receive a child of my own into my arms, I know there are many gifts to receive along the path, just as there are many things to release, and it is this wisdom I intend walk with in 2016 each step of the way.
GO FURTHER…
What is your word for the year? What are you ready to receive in 2016?
Like this post? Sign up below to receive updates on offerings, products, and free resources so you don't miss a thing! You'll also receive an instant download of the Principles Rule of Life, including seven guideposts and practices for living and traveling like a pilgrim.
Privacy Guarantee: Your information will never be shared. View Privacy Policy.