This post was originally published on Leigh Kramer's blog in 2014. Since I'm leading a pilgrimage to Iona next March and am inviting you to join me, I thought it would be the perfect time to bring the story of what sparked my love of pilgrimage out from the archives. Are you a kindred spirit? Consider joining me on Iona! Register by September 30 and SAVE $200! Learn more »
I have been a traveler for as long as I can remember. I've filled up my fair share of National Parks passports and US Passports alike over my nearly three decades on this planet, but the journeys that have impacted me the most will forever be the ones marked by seasons of transformation.
The first journey that truly left its mark was a spur-of-the-moment backpacking trip across Europe the summer after my freshman year in college. I had been to Europe a few times before and had always enjoyed myself, but for some reason my travels abroad hadn't yet sparked a desire within me to galavant around the continent aimlessly, backpack in tow. The whole "backpack across Europe" concept was new to me, and though I had friends who had come home from their European adventures with an abundance of pictures and stories, I hadn't yet found myself longing to walk in their shoes.
That is, until a good friend from high school was at my house one early summer night after our freshman year in college. He was heading off to Europe for the summer on a solitary adventure; I was making plans to return to Nashville to attend summer school so I could minor in interior design.
It's what I wanted—the path I had always planned to follow. But something from our conversation about his upcoming journey that night lit a fire within me that I have not yet been able to extinguish. It didn't take long for me to put my pursuit of an interior design minor behind me and beg to join him that summer for the trip of a lifetime. (After all, I'd watched enough HGTV at that point to earn a Master's degree.)
Surprisingly, my parents said "yes," and my friend and I headed to Paris with only a vague sense of what was next. We rode bikes across the City of Lights, visited the French countryside with locals, and I fell in love with champagne. We spent an entire day in transit to Barcelona, nearly missing our train, and then roamed the city after midnight looking for a place to stay. We took an overnight boat to Rome and camped throughout Italy. We fought in Venice, went our separate ways, and I spent the first solitary days of my life in the Alps outside of Salzburg.
We reunited in Germany, and when we reached Berlin, it was time for me to return home. However, as I headed back to the US that summer, I sensed that things were different. Somewhere along the way, I had discovered a part of myself that I never knew existed. Somehow amidst all of the train rides, language barriers, and times spent wandering, a part of me emerged that I might not have ever encountered otherwise, and I felt like a truer version of myself because of it.
That's often the case when we travel, especially in the spirit of a pilgrim. When we journey with the intention to discover new things about ourselves and our world, we not only cross physical borders—we cross borders within as well. And when we travel with intention, open to encountering what the journey might bring, we undoubtedly encounter God, the great and Sacred Guide of our journeys, both at home and abroad.
Since that journey of awakening ten years ago, I have traveled abroad multiple times, even living for a season in both London and Uganda. With each journey I have been stretched, challenged, and exposed. And in the same way (because one does not come without the other), I have grown, become more open and aware, and have learned more of my desires—for myself, for my life, and for God.
I never knew that summer that when I dropped my minor I'd stumbled upon a new vocation—a career devoted to journeying deeply and inviting others to do the same. But as the saying goes, "The way is made by walking," and through the unexpected gifts of travel, I have discovered my own path and know I will continue to find my way, encountering things beyond my borders on a journey of continual awakening.
---
Next March I'm taking a group of pilgrims to the isle of Iona, where we'll spend the week exploring thresholds of transformation—both in our individual journeys as well as our journey together. Join me?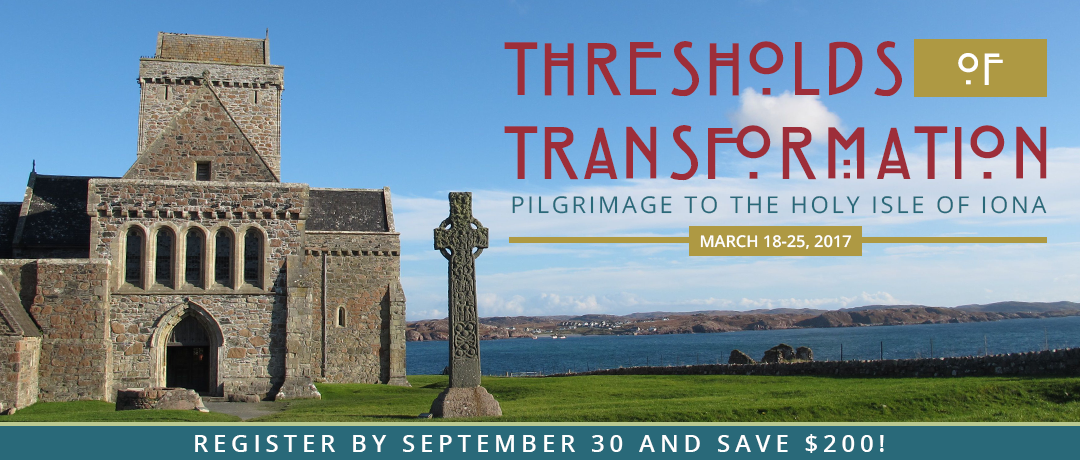 Like this post? Sign up below to receive updates on offerings, products, and free resources so you don't miss a thing! You'll also receive an instant download of the Principles Rule of Life, including seven guideposts and practices for living and traveling like a pilgrim.
Privacy Guarantee: Your information will never be shared. View Privacy Policy.