Thanksgiving is this Thursday here in the US, and this year I'll be experiencing an iconic scene for the very first time.
I've spent Thanksgiving in Uganda surrounded by Brits, feasted on pasta one year in Rome, celebrated with new friends for the first time and close family members who have gathered together for generations. However, this is the first year I'll be feasting with others around one large Thanksgiving table, the traditional spread laid out before us.
Every chair will be filled around our Craigslist antique table; all seven leaves set in place. My inner-hostess has been asleep for far too long, and I've had so much fun this week planning the place settings and  tablescape (a word Kyle told me not to use any more as I attempted to imitate Martha Stewart while pretending to have my own TV show).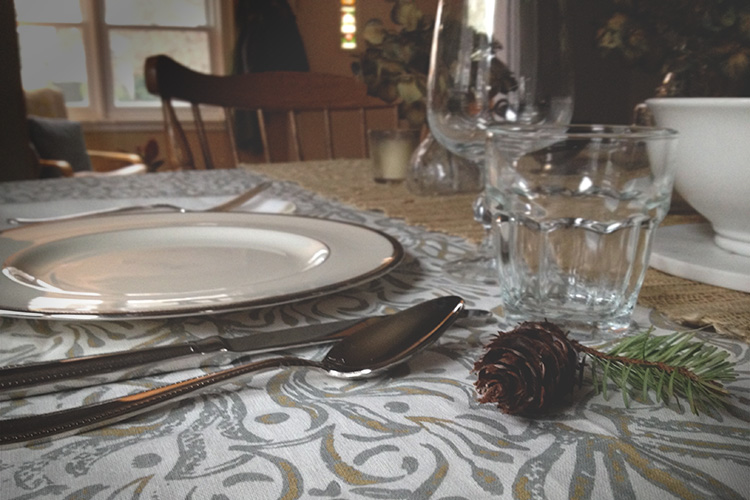 My walks in the forest this year have me paying more attention to nature this year, so I'm sticking with a design that's both clean and rustic. I'm using my grandmother's 60+ year-old wedding china and crystal alongside my own flatware, whiteware, and linens, mixing the old with the new.
My favorite feature is the dried hydrangea I recently clipped when pruning bushes in the front yard. What usually would belong on the brush pile has found its way to the center of the feast, giving it new life. I won't deny it—I'm completely in love with the poetry of it all (and how nicely it goes with my tablecloth, too).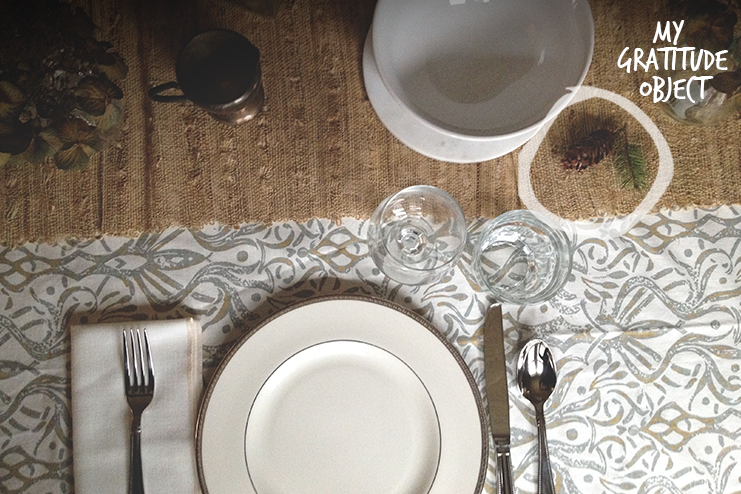 This Thursday will mark another first: our first Thanksgiving in our new home. This means we get to start new traditions, particularly when it comes to how we express gratitude—an intimate tradition I never really had in the past, having grown up with large family holiday gatherings.
Along the theme of bringing things in to the table, this year I'm inviting our guests to bring a small object that represents something they're grateful for. Before we sit down to eat, we'll gather around the table and share about the objects we bring and what they represent. After each person shares they'll place their object in the center of the table amidst the feast, turning the Thanksgiving table into an altar of sorts.
We'll not only be feasting in gratitude—this year, surrounded by objects that represent our thanks, we'll be feasting on gratitude, too.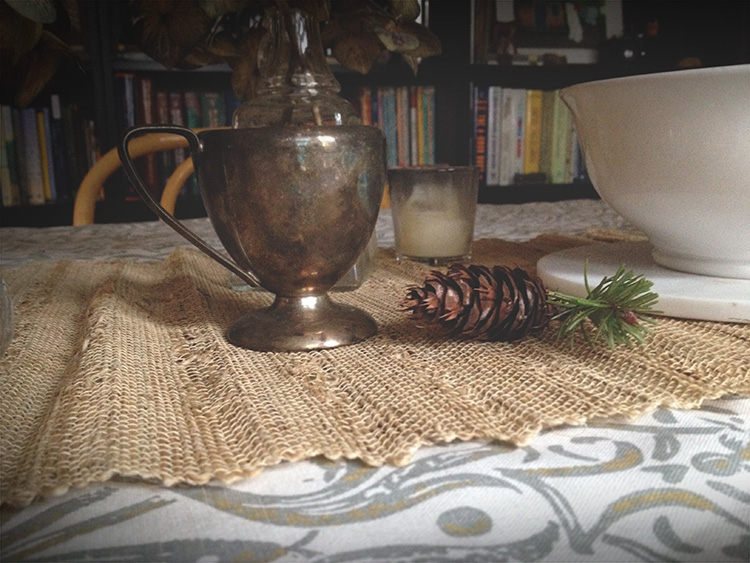 What will I be bringing? Something gathered from one of my daily walks in the nearby forest. Every time I enter, my heart wells with gratitude. I have a lot to be thankful for this year, and I'm ready to feast.
GO FURTHER…
How do you express gratitude on Thanksgiving? What object would you bring to the table? Share your response to the questions or the post in the comments.
PS: recipes for a seasonal, sustainable feast 
Like this post? Sign up below to receive updates on offerings, products, and free resources so you don't miss a thing! You'll also receive an instant download of the Principles Rule of Life, including seven guideposts and practices for living and traveling like a pilgrim.
Privacy Guarantee: Your information will never be shared. View Privacy Policy.