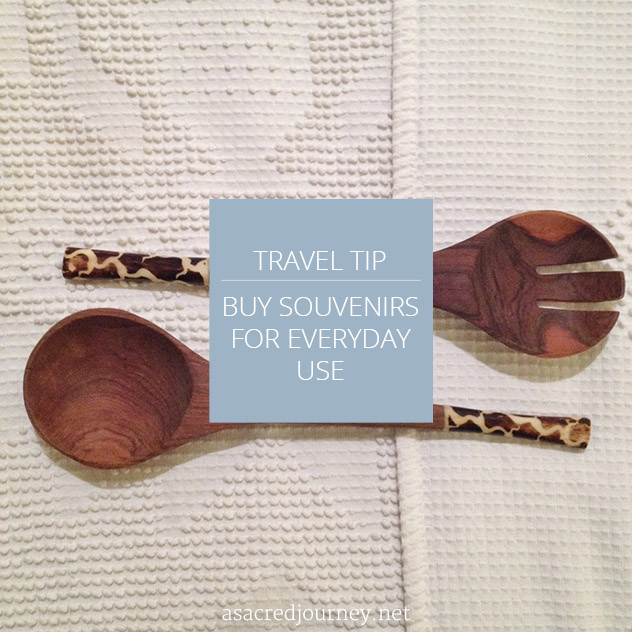 My uncles have a set of cloth napkins that they use on a regular basis. They're striped and multi-colored—just what you'd imagine Joseph's coat to be. Some are in shades of blue; others have teal or pink stripes woven in. The fringe at the bottom is the perfect finishing touch. After the first meal we always remember which ones we've used—Mine's blue! Kyle has green!—so that we can use them again when the next meal rolls around.
As you can tell, I love these cloth napkins, and so I asked my uncles where they bought them. The answer? Guatemala.
Today's travel tip is a simple one, but has the potential to leave a lasting impression each day after you return from your journey. People have varying opinions on souvenirs, especially pilgrims who try to avoid being perceived as tourists, but I'll admit it: I'm a souvenir fan. But instead of Hard Rock Café t-shirts or Lady Liberty crowns that will hide in the closet until the end of time, I like to bring home items that I'll use everyday.
Whether the souvenirs are cloth napkins, tea towels (perfect for packing), a tartan wool blanket, or hand-carved salad utensils (mine pictured above are from Uganda), it's nice to bring something home to remind you of your journey. And when it just so happens to be an item that you use everyday, you're reminded of your trip each day, too. It's also likely that someone will ask you where you got that beautiful tea towel / wool blanket / set of salad utensils, and you'll get the chance to share your journey all over again.
GO FURTHER…
What's a favorite souvenir that you've brought home?
Like this post? Sign up below to receive updates on offerings, products, and free resources so you don't miss a thing! You'll also receive an instant download of the Principles Rule of Life, including seven guideposts and practices for living and traveling like a pilgrim.
Privacy Guarantee: Your information will never be shared. View Privacy Policy.