And we're back! After a blog break in June, things are back into full swing here at asacredjourney.net! We're starting things off with a Journey Book Club discussion of our June selection—The Soul of a Pilgrim by Christine Valters Paintner. Want to join us this month? Find out what we'll be reading at the bottom of the posts and join the Book Club email list to stay in the loop (plus get a FREE downloadable reading log)!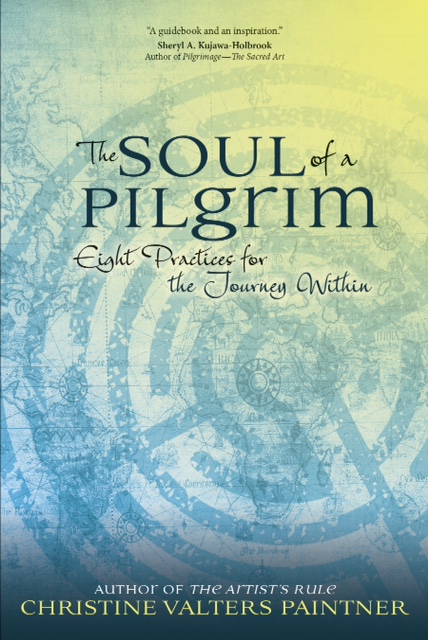 How was your pilgrimage this June?
After reading Christine's new book, The Soul of a Pilgrim, this is the question we should be asking, right? (Read Christine's story behind the book here.) I love the way Christine invited us to journey with intention in our everyday lives (any surprise there?), and though I didn't expect it, there was a pilgrimage waiting for me in the wings when I began the book in early June.
When I took some time away from the blog this June I already knew that I would be using that time to dig into my work here at A Sacred Journey, but Christine's invitation prompted me to treat this as a Sacred season and yield to the path that the Divine was laying out before me in regards to my vocation.
I loved that the book was structured as a "retreat in everyday life," and having both been on retreat and on pilgrimage with Christine before, I felt as if I were right there again in her presence as she guided me along the way. The spiritual practices at the end of each chapter and the reflections from John (a former Pilgrim in Residence) were just icing on the cake.
Sensing that this time set apart to focus on my work was a threshold, Christine's words in the introduction told me that this was the interior journey that I needed to take, and from day one the words and practices—though equally applicable to all journeys—felt personalized to my own.
Her claim in the chapter on hearing the call and responding that pilgrimage is "a rigorous journey of reclaiming ourselves and our relationship with the divine" felt timely as I sought to become once again rooted in my work in the world and align myself with what God has for me.
The practice of packing lightly reminded me to leave space in my suitcase and in my days for the movement of the Spirit and leave behind any doubts and insecurities from the ego that all to often hinder the search.
Crossing the threshold in chapter three felt scarier than I thought as I journeyed to my edges and dared to dream of new possibilities.
Then, in chapter four, I was struck by the imagery of yielding on the journey to the "greater presence at work in our lives." It caused me to ponder where I might land if I set out like one of the Celtic monks without a particular destination (when it comes to work and planning, I love destinations), instead trusting my work to "the currents of divine love."
The chapter on being uncomfortable came right in time as those feelings of doubt and insecurity began to rise up again (as they tend to do as we risk through the act of surrender and dare to dream), yet with Christine's encouragement I was able to stay with those tender feelings and find the goodness buried beneath rather than push them away. (I love the imagery of welcoming the stranger within.)
Then, of course, there was the invitation to begin again in chapter seven, which is quickly becoming my most valuable spiritual practice. I loved how Christine encouraged us to embrace imperfections, saying that they are "the landscape of your journey, the detours that take you onto other paths that aren't your own." When reflecting on my own vocational path, this thought offers such grace for the journey as well as affirmation that there is a path that is my own waiting for me when I return to what I know to be true and begin again.
As I began to embrace the unknown in the final chapter I was once again able to surrender to my vocational journey, learning that being present to the path is my only task at hand.
After all of that, then, the final chapter on coming home truly felt like returning home—"without all the answers," as Christine says, but instead with "better questions; questions that bring the pilgrimage experience into daily life and reveal depth in all they see around them."
My vocational journey isn't over—it will last a lifetime and I'm honored to count you as a part of it. But this pilgrimage allowed me in this season of (blog) silence and deep listening to find the path once again. And, as Christine mentions in the final chapter, it feels like a rededication—to the call, to the path, and to trusting in the Sacred Guide.
GO FURTHER…
What about you? What journey did Christine's book send you on? Where do you find yourself today?
Let's start this Journey Book Club discussion in the comments! Christine Valters Paintner will be joining us, so if you have any questions for her or simply want to share how her work has impacted your own journey, be sure to give her a shout out below!
JULY COMMUNITY SELECTION
Drumroll please! The votes are in, and the first-ever Journey Book Club community selection is The Unlikely Pilgrimage of Harold Fry! Whether you're in the lazy days of summer or cozying up in the middle of winter for those of you Down Under, July seems like the perfect month to read some fiction and I'm excited to see how the practice of pilgrimage is portrayed in this bestselling novel. I read in a review from The Guardian that there are "Biblical overtones and elements of parable" in the book, which has me even more excited to dive in! (Not to mention that I've been on a British novel kick of late—did you know?)
We'll discuss the book back here on Friday, July 31. Happy reading!
Like this post? Sign up below to receive updates on offerings, products, and free resources so you don't miss a thing! You'll also receive an instant download of the Principles Rule of Life, including seven guideposts and practices for living and traveling like a pilgrim.
Privacy Guarantee: Your information will never be shared. View Privacy Policy.