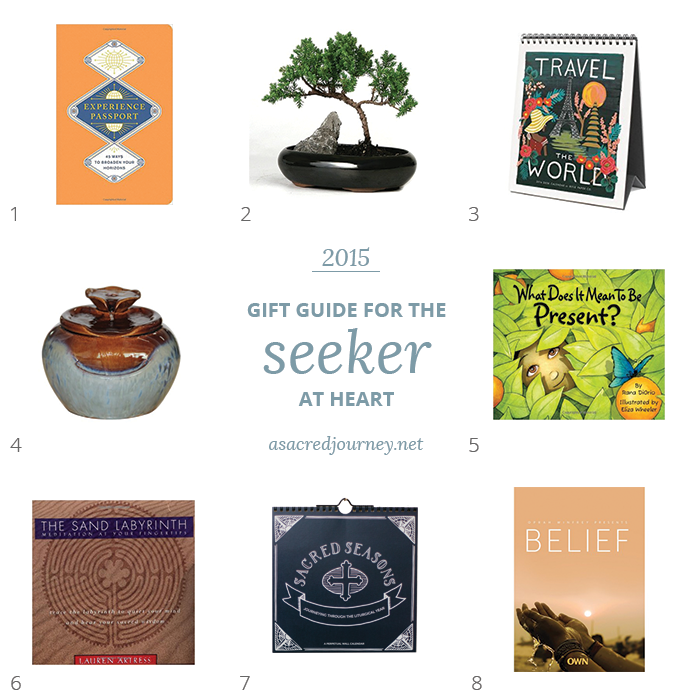 During the season of Advent we not only wait with longing—we also prepare with anticipation for what is to come.
For many of us, this means exchanging gifts with family and friends when Christmas comes. Here's a gift guide for the loved one in your life who is a seeker at heart and a lover of infusing both their travels and everyday life with spirituality and intention. (Check out last year's gift guides for the Seeker of the Sacred and the Intentional Traveler for more inspiration.)
The perfect stocking stuffer, hands down—the gift of experience and inspiration all in one. Would be fun to check back in again next Christmas to see the impact of these invitations!
"This pocket-sized passport guides users to explore the world around them and have more life-enriching experiences with dozens of creative prompts. Take a different path to work or school every day for a week; converse with someone who speaks a different language; read an award-winning work of fiction; sketch and learn about five constellations. With space to record observations and passport 'stamp' stickers to mark your experiences, the passport becomes a record of these priceless experiences."
I've always wanted a bonsai tree, and this kit comes with everything you need to grow three of your own. There's something nourishing about bringing life indoors during the winter, and I imagine nurturing these beautiful, storied plants can become a spiritual practice in itself.
Take the seeker in your life on a new visual journey each month of the year! I wish I would have gotten my hands on the full-size 2015 calendar, but this desktop version is the next best thing. Plus, after the year is over they can frame each month as a print!
"Inspired by vintage travel posters from around the world. Each month features a hand-painted illustration of a classic destination such as Kyoto, Paris, Havana, and Petra."
I'm finally getting a room of my own in our home next month to claim as my studio and office and have been making plans to turn it into my ideal sacred space. A tabletop fountain is one of the top things on the list to help set the mood and would be perfect for anyone who loves the calming, meditative sound of trickling water.
I came across this book last week for the first time and wish I would have found it sooner—perfect for both children and adults alike. Can you imagine what it would be like to receive wisdom like this as a child?
"What does being present look like? Noticing when someone in your class needs help and taking the time to help them. Sound like? The rain outside your window. Smell like? Briny seaweed at the beach. Taste like? A bite of orange. Feel like? Allowing the rhythm of your breath, in and out … to make you feel peaceful. Follow a group of friends at school, at home, and at the beach as they experience just what it means to be present."
In honor of our recent Journey Book Club selection, a way for the seeker at heart to bring their labyrinth practice into their home.
"For thousands of years, archetypal labyrinth patterns have been used as a powerful tool for resolving problems, access to inner peace, and spiritual alignment. A simple, yet highly effective practice, walking or tracing a labyrinth quiets the mind and takes you to a place where you can hear your own wisdom with clarity and calmness. Author Lauren Artress, founder of Veriditas, the Worldwide Labyrinth Project and renowned expert on the subject, offers a lovely labyrinth kit, to be used anywhere, anytime—on tabletops, desktops, beds or laps."
My most recent release and a gift that keeps on giving—since it's perpetual, it can be used year after year! Want to double the impact? Bundle the calendar with one of my hand-lettered prints through December 31 and save $5! Learn more »
"This one-of-a-kind perpetual liturgical wall calendar follows the Christian Liturgical Calendar—a set of seasons and feast days that are both ancient and transformative, offering a framework for spirituality and intention in our everyday lives. Unlike a traditional wall calendar, the Sacred Seasons liturgical wall calendar has no dates or boxes. Instead, each turn of the page of this perpetual wall calendar beckons you into a new liturgical season or select feast day, with unique hand-lettered illustrations containing invitations, colors, and symbols associated with each period and more detailed descriptions on the back of each page. Included seasons and feast days are Advent, Christmas, Epiphany, Lent, Holy Week, Easter, Pentecost, and Ordinary Time."
I wasn't able to watch this when it aired since I don't have OWN, so I've been waiting with the excitement for the DVD release. Perhaps the seeker in your life has been as well? Luckily it's releasing just in time for Christmas. I don't know about Oprah's famed list, but it's on my 2015 list of favorite things, for sure—even without  having seen it!
"Oprah Winfrey presents Belief, a groundbreaking seven-part documentary series exploring humankind's ongoing search to connect with something greater than ourselves. Belief invites viewers to witness some of the world's most fascinating religious and spiritual journeys through the eyes of believers. Traveling to the far reaches of the world, and to places cameras have rarely been, these stories will all lead us to ask: 'What do you believe?'"
GO FURTHER…
How do you give to the seekers in your life? As a seeker yourself, what kind of gifts do you treasure?
Like this post? Sign up below to receive updates on offerings, products, and free resources so you don't miss a thing! You'll also receive an instant download of the Principles Rule of Life, including seven guideposts and practices for living and traveling like a pilgrim.
Privacy Guarantee: Your information will never be shared. View Privacy Policy.