The Journey Book Club is migrating to Facebook—the perfect place to interact throughout the month as we read together, sharing our favorite quotes and insights and engaging in some lively discussion. This will be the last Journey Book Club post here on the blog. To continue to read/follow along (and find out what we're reading next), click here to join the group.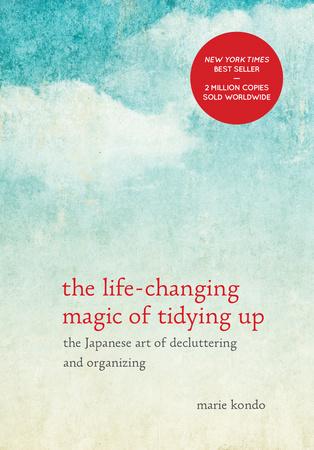 Although in many cases Marie's method can seem a bit over the top (I won't be emptying my purse each day anytime soon or affirming my clothing on a job well done), I'm a great supporter of anything that emphasizes how much even the ordinary things in life—in this case our possessions and surroundings—impact our wellbeing: mind, body, and soul.
In fact, even though tidying up is often a practice associated with spring cleaning, perhaps Ordinary Time is the best season in which to begin the practice of tidying up as it causes us to truly look at the items and spaces that can be often overlooked in our busier seasons and choose to take action in a way that will lead to life and growth. And, since spiritual practices are regular rhythms that cultivate life, leading us closer toward our true selves and the Divine, I think it's safe to say that the KonMari method can be approached as a spiritual practice. After all, the central tenet of her method is to only keep items that spark joy, and as a fruit of the Spirit, isn't joy a sure-fire way to measure our connection to the Sacred?
Of course, that's not to say that Marie's method is easy. It requires facing hard truths about our daily habits and releasing unhealthy attachments. But even this, too, is part of spiritual practice, because it is only by naming what is real and shedding parts of the false self (things that, like many objects, might have been useful to us in the past, but now hold us back) that we can uncover our true selves and experience the full presence of the Divine.
All this to say, tidying is my new spiritual practice (especially as summer fades and many gardening needs fade with it), and I'm pursuing it with vigor.
However, more than her quirky ways that I can attribute to Marie just being Marie (reading organizational magazines at 5?!), the one thing that really bothered me about this book is what she did with the items after it was discovered that they didn't spark joy: she often threw them out. Perhaps something got lost in translation, but even though I whole-heartedly support living with less, I don't support simply throwing things out on the fast track to minimalism. To me it's unethical, and certainly not in line with tidying as a spiritual practice, because it's not only about joy—it's also about stewardship.
That said, I want to end this post with something both actionable and life-affirming: some alternative solutions to simply throwing things out while tidying up. There are, of course, the standard donation sites that we all know about, such as GoodWill and The Salvation Army. You can always sell things on E-Bay or Craigslist, and I've also had success with thredUP (women's and children's clothing) and half.com (books and media). And, of course, in the spirit of reduce, reuse, recycle, it's always a good idea to get familiar with what can be recycled in your area. If you're looking for an all-in-one recycling guide, check out Earth 911.
GO FURTHER…
What did you think of the book? Did she win you over to the KonMari method or do you disagree with her ways? I'd love to hear both your experience of the book and of the tidying process if you got that far!
PS: Don't forget—The Journey Book Club is migrating to Facebook! Join the group here to find out what we'll be reading in September and continue to follow along!
PPS: The Journey Book Club isn't the only thing moving! Monday Musings will be migrating, too. (How's that for a tongue twister?) Follow along on Facebook, Twitter, Instagram, or Pinterest for continued inspiration each Monday!
Like this post? Sign up below to receive updates on offerings, products, and free resources so you don't miss a thing! You'll also receive an instant download of the Principles Rule of Life, including seven guideposts and practices for living and traveling like a pilgrim.
Privacy Guarantee: Your information will never be shared. View Privacy Policy.