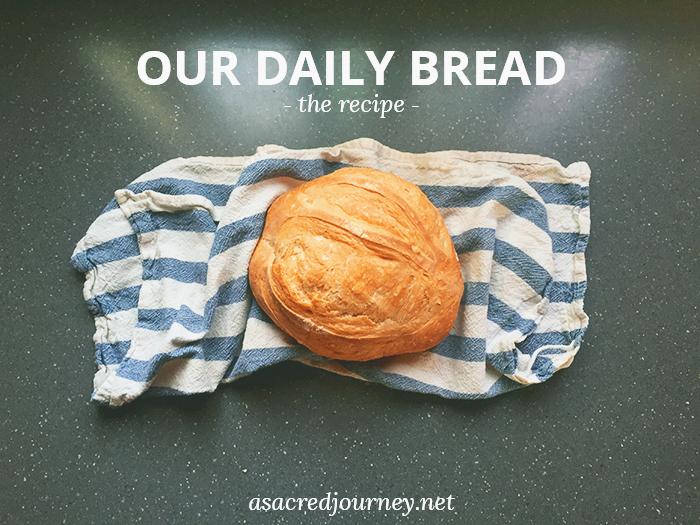 For over three years now, we've been making our own bread.
And, I should clarify—when I say "we" I mean my husband, Kyle. He's a web developer, and so at the end of the day (or even on breaks in the middle) he's eager to get out of his mind, leaving code-land behind and instead using his hands to create.
Over the years he's turned to many things to help him transition—roasting coffee, brewing kombucha, curing bacon—but more than anything, while he was away on the Camino it was making our daily bread that he missed (and he wasn't alone—I had to buy bread while he was away! Can you imagine!?).
You see, making bread has become a ritual for Kyle—a regular rhythm, and, dare I say, a spiritual practice. It calls him to leave the complex behind and return to the basics—for what's more basic than bread? And it invites him to remember his first love—food—and encourages him to learn the ins and outs of what brings him delight (which, of course, is always a place where we can experience Sacred Encounter).
And so, today I offer you this recipe of our daily bread—from our family to yours. May it call you, too, to return to the basics, and remind you that delight and the Sacred can be found in even the most simple of places.
our daily bread: the recipe
adapted by Kyle Ellman from Artisan Bread in Five Minutes a Day
INGREDIENTS
925 grams of AP flour (or replace up to 50% with whole wheat)
725 grams of body temp water
14 grams of active dry yeast (two standard sachets)
25 grams of salt
DIRECTIONS
step one
Mix all the ingredients into a container that's big enough for the dough to double in size and let sit in a relatively warm place for two hours.
step two
Refrigerate for as little as three hours if you're in a hurry, and up to five days (three-four days is ideal).
step three
Pull out half (or all) of the dough onto a floured surface and gently fold all the edges into the middle, over and over again to form tension in the dough. This is to form the loaf. When you fold, roll over and turn the loaf on the surface, tucking the bottom underneath each time you turn. This helps to build tension in the loaf.
step four
Let the dough rest and rise for 40 minutes. Halfway through the 40 minute rise, place a pizza stone on the bottom rack of your oven and a pan with some water on the top rack; begin preheating the oven to 460ºF. At this point, you might notice that the loaf has flattened a bit—that's okay. Just turn and tuck a few more time to restore its shape.
step five
After 40 minutes passes, you might want to turn and tuck the loaf once more if it is still lying flatter than you like. Then, add a thin layer of cornmeal to a pizza peel (or another flat surface) and transfer the dough on top so it will easily slide onto the pizza stone inside the oven. Before placing in the oven, slash the top of the loaf a few times with a sharp knife. This prevents the loaf from bursting as it rises in the oven in the oven (the pattern of slashes is up to you). Slide the loaf onto the pizza stone in the oven and set the timer for 20 minutes.
step six
After 20 minutes as passed, remove the pan of water from the oven and set the timer for another 20 minutes.
step seven
After another 20 minutes or so, pull your loaf out of the oven using the pizza stone or simply oven mitts and place it on a cooling rack. If you put your ear next to it, you will hear some faint crackling noises. It's referred to as "singing" and is a result of the outside of the loaf rapidly cooling.
Congratulations! You've just made a delicious loaf of bread from scratch.
BAKER'S TIPS
Now that your loaf is out of the oven and smelling like heaven, it's tempting to want to slice into it right away. However, it's best to wait several hours until it is completely cooled; otherwise the middle will be gummy and fall apart easily (this is always the hardest part for Lacy).
Additionally, if you want to use the loaf over several days, slice as you use rather than all at once and keep in an unclosed gallon ziplock bag to allow for minimal airflow. Didn't get through the loaf before it dried out or have heels to spare? Make croutons!
GO FURTHER…
What everyday activities help you return to the basics and encounter the Sacred?
Like this post? Sign up below to receive updates on offerings, products, and free resources so you don't miss a thing! You'll also receive an instant download of the Principles Rule of Life, including seven guideposts and practices for living and traveling like a pilgrim.
Privacy Guarantee: Your information will never be shared. View Privacy Policy.