Do you long to turn your travels and daily life into a Sacred journey?
If so, then welcome home, Pilgrim. Inspired by the practice of pilgrimage, A Sacred Journey is devoted to spirituality and intention in travels and daily life. If you're a seeker who is prone to wander, you've come to the right place!
Ready to join me on this journey? Start here:
1. first things first
If you're new to A Sacred Journey, welcome! Pilgrimage is a Sacred journey—a movement that brings us toward the Divine—and I'm so glad you've decided to join me on the Path of the Pilgrim. To live as a pilgrim—whether at home or abroad—all you need to do is see your life as a journey and your role as a Seeker of the Sacred, and A Sacred Journey will help you to do just that.

2. join the community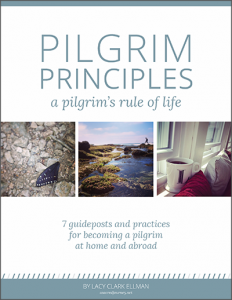 Join our community of fellow seekers by signing up to receive updates on offerings, products, and free resources below so you don't miss a thing. When you do, you'll instantly receive a downloadable PDF of my rule of life written with the pilgrim in mind, Pilgrim Principles, which includes seven guideposts and practices for living and traveling like a pilgrim.
Privacy Guarantee: Your information will never be shared. View Privacy Policy.

3. start exploring
From the beginning, A Sacred Journey has provided resources to help you infuse your travels and daily life with spirituality and intention. Find a collection of my best resources here. If you're new to the language of pilgrimage (or just want to figure out why I keep capitalizing "Sacred"), then check out the Pilgrim's Glossary of Terms here. (No verb conjugations required!)
blog
Because A Sacred Journey focuses on spirituality and intention in travels and daily life, you'll find posts for pilgrims both at home and abroad. Ready to dig in? Pour yourself a hot cup of coffee or tea and curl up in your favorite chair, and start with my suggested itinerary below:
podcast
Though pilgrimage can often be a solitary affair, our journeys come alive when we gather with other seekers in shared conversation to learn from each other's journeys and travel alongside one another as journey companions. Pilgrim Podcast is a podcast exploring spirituality and intention in travels and daily life and what it means to live like a pilgrim at home and abroad. In each episode, we join fellow seekers in conversation on pilgrimages abroad, meaningful journeys at home, and the surprising paths life sends us down that always lead to transformation.
Looking for my discussions on the liturgical seasons with Jenn Giles Kemper on the Sacred Ordinary Days Podcast? Find them here.
free resources & downloads
A Sacred Journey is filled with free resources to help you live and travel like a pilgrim. In addition, occasionally some of the blog posts feature free downloads, including mini-guides to enhance your journey at home and abroad.
journey shop
As a lover of inspiration and a maker at heart, I've created a collection of handmade and designed products to inspire your journeys at home and abroad. (Fun fact: I actually have a Bachelor of Fine Arts degree!) In the Journey Shop, you'll find unique products influenced by my own journey and spiritual practice, including wearable prayer beads, essential oil bracelets, totes bearing messages to carry with you, a perpetual wall calendar guiding you through the liturgical seasons, and more.

4. go further
When you're ready to go further, A Sacred Journey provides offerings and services to deepen your journey, including unique online courses and opportunities to work one-on-one. Learn more below.
pilgrim principles
If you've downloaded the Pilgrim Principles Rule of Life (get it free when you subscribe here), you know what it means to live like a pilgrim. Now it's time to put it into practice in community with fellow seekers through the Pilgrim Principles course, a seven-week online retreat to help you journey with intention in everyday life.
journey guide
Going on pilgrimage? As you plan, prepare for, and journey through your pilgrimage, you'll need a guide to help you engage the journey with intention each step of the way. A multi-media travel resource infused with soul, Journey Guide is a step-by-step pilgrimage companion for your journey of a lifetime.