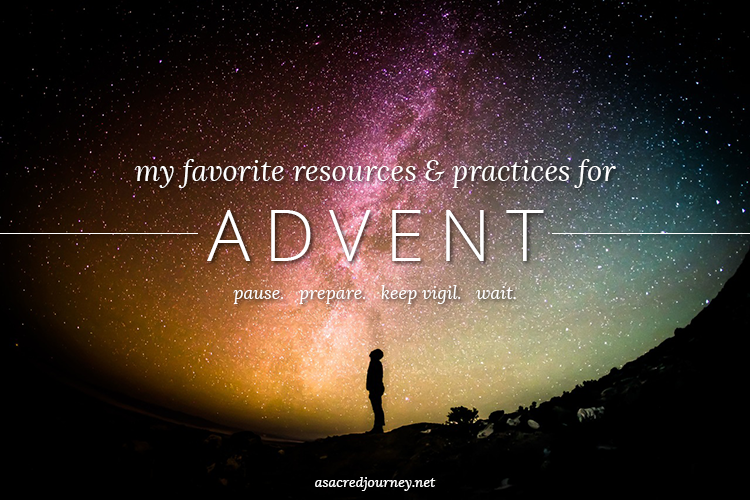 Advent is finally here, and being the first season in the new liturgical year (after a lengthy Ordinary Time, I might add) it seems that many, like me, are eager to dive in.
In my latest monthly newsletter to subscribers, sent on the first day of Advent (Missed it? Sign up here), I shared reflections on the season and an invitation for us all in the days ahead:
Pause. Prepare. Keep Vigil. Wait.
Today I want to share with you my favorite resources and practices that align with these invitations and themes of Advent so that, as fellow pilgrims, we might journey together through this season of mystery, longing, and great anticipation. (It seems tailor-made for the Seeker of the Sacred, doesn't it?)
PAUSE
1. open yourself up through the practice of prayer
The word "advent" means beginning, coming, arrival, and it might as well mean "opening," too, because to fully experience its gifts we must first open ourselves up to the unknown that is so common in seasons of darkness, waiting, and anticipation. Prayer is a great way to do this, because prayer in itself is an opening—an opening up of ourselves to God and an opening, or beginning, for what is to come. In this quiet season, I suggest giving a centering prayer a try, perhaps using a word like "hope" or "light" as your centering word to guide you through the night.
2. listen to the Advent episode of the Sacred Ordinary Days podcast
Even though you have tasks on your to-do list, listening to our Advent edition of the Sacred Ordinary Days podcast provides the perfect mental pause at the beginning of this season, with ideas, practices, and reflections to reorient you for the weeks to come.
3. take a walk (and bring the outdoors in)
Nothing says "pause" to me like fresh air, and it's always a gift for the spirit to get out into creation—the first revelation of the Divine. Movement has a great centering quality, too. After all, as the saying goes, "The way is made by walking." You can also use these walks to begin your preparations by gathering found objects from the outdoors and bringing them inside, surrounding yourself with the assurance of evergreens as you cling to the promise of life. (Here's my annual tradition.)
PREPARE
1. start at the very beginning
I'm an information junkie, so for me the first step as I prepare is to become informed. Being a lover of meaning and metaphor, too, I want a resource that provides more than just facts; I want a guide that transforms. For me, that's Gertrud Mueller Nelson's classic, To Dance With God—a primer on the liturgical seasons with powerful insight and a Jungian slant.
2. move (and decorate) slowly
If our preparations in this season are going to set us apart from the rest of the world, then they've got to be slow. Just as Advent unfolds with the passing of each week and the lighting of each candle, bringing us closer to the promise that we long for, I like for my preparations to unfold slowly as well. Instead of decorating all at once and moving swiftly into Christmas festivities (I'll let you in on a little secret: it's not Christmas yet), saunter through the season, savoring goodness as it comes along and setting aside anything that keeps you from the present moment and the spirit of Advent.
3. set aside time
Entering a season with intention doesn't just happen—it requires planning and prioritization. A great resource for this is the Sacred Ordinary Days liturgical planner, which follows the liturgical year and is filled with quotes for inspiration, prompts for reflection, and a weekly invitation to practice sabbath. This year they're offering a weekly edition along with their original daily planner! (You can also get a free sample here.)
KEEP VIGIL
1. light a candle
If I were to think of a symbol for the season of Advent, it would be a candle (which is why you'll find one on the Advent page of the Sacred Seasons liturgical wall calendar!). To me it embodies the spirit of keeping vigil—a way to engage the waiting with intention—and simply gazing at a candle's flame puts me at ease in a season of darkness and anticipation. The most common practice involving candles during the season of Advent is the lighting of an Advent wreath, but you could also light a candle at the beginning of your daily practice, or light multiple candles to represent your prayers. I like these beeswax tapers, and with bees being a symbol of fertility, there's something special about using beeswax candles in this season of expectancy.
2. enter into your own places of waiting
Advent isn't just about how God's people waited for Jesus 2,000 years ago. It also offers insight for and adds meaning to our own seasons of waiting today. Consider journaling during this season—through words or pictures—around a place of longing or waiting, keeping vigil with your desire and the emotions that surround this season as you hold out hope for the light. (I'm a fan of the Moleskine Cahier journals for this purpose—they're just the right size and you can write on the cover, too!)
3. journey through the season with a guide
When navigating wilderness or darkness, a guide is a necessity, whether it serves as a compass to point you in the right direction or a lantern to light your path. With descriptions, prompts, and themes for each liturgical season, the Sacred Seasons liturgical wall calendar can do just that. As for Advent-specific guides, I'm a big fan of Richard Rohr's pocket-sized volume, Preparing for Christmas, with short daily passages, Scripture readings, and questions for reflection. (I've also just learned about about Watch for the Light: Readings for Advent and Christmas, featuring reflections from many of the most notable journey guides and spiritual midwives of the past century, including C.S. Lewis and Thomas Merton—definitely adding this one to my list!)
WAIT
It's hard to name practices and resources for waiting, but one thing that helps during the wait is immersing ourselves in the present moment. I also think waiting together in community far outweighs waiting alone. Here are three suggestions to help you practice waiting as you lean into the tension:
1. attend weekly church services
In liturgical communities, the services during Advent include the lighting of the Advent wreath and often center around a particular theme. It's a great way to journey with others—both acquaintances and strangers—as well as journey through the greater story of Christ as we await the Incarnation. If you don't have a church home but want to experience the traditions of the Church this Advent, Catholic, Episcopal, Lutheran, and Methodist churches are two of many denominations that follow liturgical traditions and all are welcome to drop in.
2. Share the experience with friends
When practicing Advent includes lifestyle changes, it's best to be in a community that not only supports you, but is also right there with you. If you'd like a communal guide for your practice, consider following Advent Conspiracy—an alternative way of approaching the season that emphasizes intention, generosity, and social justice.
3. Count down with an Advent calendar
Waiting is always a bit easier when you know it's not forever, isn't it? Often in life, we don't have the advantage of knowing when our seasons of waiting will end, but we do when it comes to Advent and the light that Christmas brings. There are endless options out there, including fill-your-own boxes (this is my personal favorite), calendars featuring daily chocolates, as well as hand-crafted versions from Etsy. But do me one favor, will you? Focus less on the "calendar" part and more on the "Advent" one.
GO FURTHER…
How will you pause, prepare, keep vigil, and wait in this season?
Like this post? Sign up below to receive updates on offerings, products, and free resources so you don't miss a thing! You'll also receive an instant download of the Principles Rule of Life, including seven guideposts and practices for living and traveling like a pilgrim.
Privacy Guarantee: Your information will never be shared. View Privacy Policy.