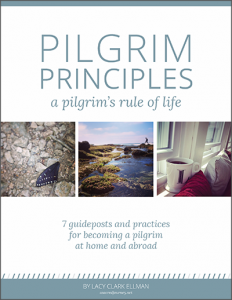 Join our community of fellow seekers by signing up to receive updates below so you don't miss a thing. When you do, you'll instantly receive a downloadable PDF of my rule of life written with the pilgrim in mind, Pilgrim Principles, which includes seven guideposts and practices for living and traveling like a pilgrim.
You'll also receive my monthly newsletter, which includes content I don't share anywhere else. Here's what's inside:
› a letter from me
› links to recent posts all compiled in one place for easy reading
› a quote of the month with downloadable images for your desktop and phone wallpaper
› a practice of the month to help us journey together as a community
+ more!