Are you ready to start journeying with intention in everyday life?
We are all on journeys—journeys of faith, journeys in relationship, journeys of discovering what we love and who we really are. And when we bring the intention and awareness of the pilgrim to these journeys, our everyday lives are transformed.
While the practice of pilgrimage traditionally involves journeys to far-off Sacred sites, I have a secret to tell you: You don't have to leave home to begin living like a pilgrim. All you need to do to begin practicing pilgrimage every day is to see your life as a journey and your role as a Seeker of the Sacred. Are you on the path of the pilgrim at home?
You're on the path of the pilgrim at home if…
you're the curious one in the room who's always asking questions and looking for ways to dig deeper
you want your daily life to reflect what matters most to you
you're drawn to mystery and wonder and find more value in the search than in accepting easy answers
you believe that life is filled with meaning, even on the most ordinary of days
you know that it's the journeys you've taken so far that have made you who you are today

how to start journeying like a pilgrim at home
1. SET YOUR INTENTION
Any pilgrimage begins by setting an intention—the active pursuit and cultivation of hopes, values, and desires. If the pilgrim abroad seeks to travel with intention, then the pilgrim at home must seek to live with intention, navigating everyday life with both awareness and action. What are the hopes, values, and desires that drive you? What intentions can they inspire for your everyday life?
Living like a pilgrim at home is a daily practice, and when you begin to infuse everyday life with spirituality and intention, what once was ordinary becomes extraordinary. Consider developing a morning ritual to help you return to your intention each day, and click here to find resources on intentional living including self-discovery, mindfulness, and simplicity.
2. ESTABLISH REGULAR RHYTHMS OF SEEKING THE SACRED
Whether at home or abroad, the purpose of pilgrimage is always the same: to draw close to the True Self and the Divine. This is the journey of spiritual formation, and it is a lifelong journey. Regular rhythms of seeking the Sacred provide opportunities to tend to this spiritual journey each day. Which regular rhythms draw you closer to your True Self and the Divine?
Spiritual practices offer both scaffolding and a firm foundation for the search. Discover what a spiritual practice is and click here to find more resources on spiritual formation including labyrinths, Sabbath, and instructions for seven popular contemplative prayer practices.
3. SHARE YOUR JOURNEY WITH FELLOW SEEKERS
While often solitary at the outset, journeys are always enriched by trusted companions and the newfound confidants we encounter with along the way. Which fellow pilgrims could you invite to journey alongside you? Find companions for the journey by connecting with like-minded seekers, following the work and ministries of your favorite journey guides, and meeting regularly with a spiritual director.
You can also journey with the greater Christian community by following the Liturgical Calendar. The seasons and holy days of the Liturgical Year within the Christian Church offer a framework for spiritual formation and an invitation to journey with intention year after year. Click here to learn more.
CONTINUE THE JOURNEY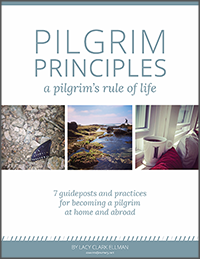 With its emphasis on spirituality and intention in travels and daily life, A Sacred Journey provides endless resources for the pilgrim at home and abroad. Sign up below to receive updates so you don't miss a thing! When you do, you'll instantly receive a downloadable PDF of my Rule of Life written with the pilgrim in mind, Pilgrim Principles, which includes seven guideposts and practices for living and traveling like a pilgrim.