This post is by our July Pilgrim in Residence, Pat Loughery. Pat will be sharing Wednesdays this month about a recent pilgrimage to Iona. Read the other posts in the series and learn more about Pat here. -Lacy
The geology on and around Iona is fascinating for a pack rat who likes tangible reminders of "having been there." The way that the stones of the island tell the story of its history made a profound impact on me when I was on island. They resonate with me still.
On the south end of Iona, you will find Columba's Bay, also called Bay of New Beginnings. There are various stories about the reason that St. Columba and his disciples left Ireland and landed on Iona. My favorite, for its drama and its meaning-carrying, briefly goes this way:
Columba, an Irish monk, became embroiled in an intertribal conflict that reached its apex when it was discovered that under the cover of night, Columba was borrowing, without permission, another man's book of Psalms, and copying them. When this property infringement was discovered, a small battle broke out, and dozens of men died. In punishment, Columba was exiled, forbidden from ever setting foot on Irish soil again and ordered to win more souls to Christ than had been lost in the battle, and more besides. He took a small group of disciples, sailed northward until they could no longer glimpse Ireland, landed on a beach, and promptly buried their boat in order to discourage the temptation to return. In that bay, the reality of the circumstance overwhelmed Columba, who burst into tears in sorrow.
The bay where Columba's craft landed is now called Columba's Bay, and it carries the nickname "Bay of New Beginnings." It was here that Columba and community began their efforts to redeem a sorrowful exile, and to see God be glorified by their future actions.
Today, when you pilgrimage to Iona, a common feature of your journey is a day's walking trip around the island, and Columba's Bay is a common place to visit. It is a beautiful space, wide and open, wild and free. Part of the attraction to this location is identifying with Columba's story, reflecting on your own need for new beginnings, and perhaps taking with you a reminder of the hope of grace.
That is often accomplished simply by collecting stones from the bay and taking them home for your own reminders, and to give to others who need to hear the story of new beginnings. (Patricia Turner shared this during her recent pilgrim residency here.)
There are three stones most associated with this island and with this story. This seems fitting, as the Celtic Christians were a deeply Trinitarian people, and they loved the interplay of things in threes.
The first stone is Ionan marble. It is widely associated with the island, and for a short time there was a working marble quarry on the south end of the island. It is an off-white marble with swirls of green embedded within. Local stories say that Ionan marble has healing properties, and is good for protection against shipwreck, fire and miscarriage. This is the best known stone from Iona, and can be found plentifully on the beaches of Iona, and easily on Columba's Bay.
The second is nephrite. Nephrite is the green stone embedded within the Ionan marble, but in some cases freed from the marble by the time and tide. These small green stones are also known as Columba's Tears, a reminder of the grief of Columba's past, left at the Bay of New Beginnings. These are more difficult to locate on the beaches due to their small size and well-worn feel.
The third, Lewisian Gneiss can also be found in the southern beaches, and even more easily on the western beaches. It is dark grey and layered with pink. Lewisian granite is ancient and rarely exposed at the planet's surface, but is found on Iona. While the earth is some 4.4 billion years old, Lewisian Gneiss is some 2.9 billion years old. The pink granite just east in Mull is some 300 million years young by comparison.
Each showed me something.
I carry a dollar-coin sized piece of Iona marble in my pocket. It and the few scattered Columba's Tears on my shelf remind me that, for Columba, what was the site of his deepest grief and shame became the genesis of a world-changing mission, once he left that grief behind and allowed God to redeem it and him.
There are, indeed, new beginnings—and sometimes it takes all of our courage to bury our escape plans and forge a new future.
The Lewisian Gneiss surprised me in its impact. The age of stones like this boggled my comprehension. But when I held one for the first time, I realized that it wasn't just another stone—this rock in my hand had seen 3/4 of earth's history. Its age and what it could say—if stones could cry out—reminded me that the worries, struggles and questions in my life are real, but they will not last forever.
For me, there has been great peace in having these touch-points at my desk, on my shelves, and in friends' hands. These stones remind me of the long story of God's work among us. They remind me that what I experience is real, and that my hope for a better future is just as real, too.
But there was another stone on the island that mystifies me.
On one of our afternoon breaks, two of us went on a quick hike to the south end of the island, looking for another bay that, we were told, had rich deposits of Columba's Tears. In two hiking trips, I hadn't found it—and in this one, I didn't either.
We did, though, see an odd stone formation against the horizon.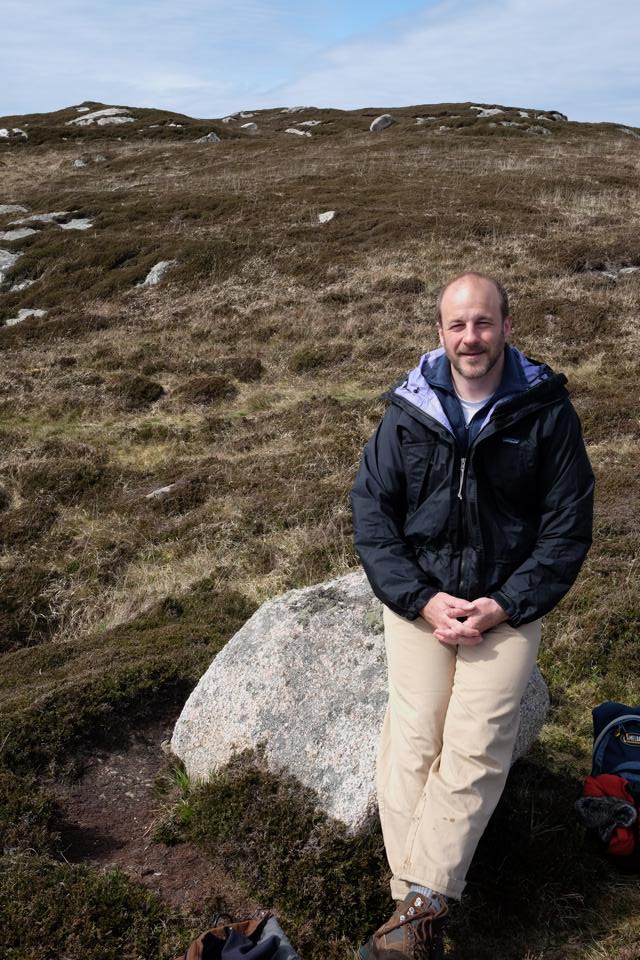 Somehow that stone called to me. We went over to it. Although we had been following faint paths through the bog and heathers, missing the trail and regaining it frequently, this stone was different. There was a well-worn path around it, deep and obvious.
I have no idea how that path could have been formed. Perhaps by sheep or cattle, although there were precious few of these on this part of the island and all were behind fences nearly an hour's hike away. I do not know, and I cannot speculate. I do know that I sat with the stone for a while. I stood atop it and looked out over the southern coast and toward Ireland beyond.
GO FURTHER…
Have you experienced a season filled with death that became the source of new life and purpose, like Columba and his exile? If you were at Columba's Bay, what new beginning would the stone you take with you represent? Share your response to these questions or the post in the comments.
Like this post? Sign up below to receive updates on offerings, products, and free resources so you don't miss a thing! You'll also receive an instant download of the Principles Rule of Life, including seven guideposts and practices for living and traveling like a pilgrim.
Privacy Guarantee: Your information will never be shared. View Privacy Policy.