It's been nearly three years since my introduction to Richard Rohr.
(I know, I was late to the game, but so was Oprah.)
Apart from his Enneagram work, my first exposure to Richard Rohr was his slender 2014 release, Silent Compassion: Finding God in Contemplation. In Silent Compassion, Richard Rohr emphasizes the value of the spiritual practice of silence on the path of contemplation.
"Silence attracts meaning," Rohr says. "If you stay quiet for a whole hour, it will be hard not to write a poem. In silence everything becomes real. Everything deserves a poem. Silence discloses the fullness of now, instead of always waiting and wanting more, instead of waiting for the next thing, the more exciting thing to happen."
(Pause for a moment of silence and a breath of fresh air.)
Need I say more? It didn't take long for Rohr to join the ranks of my treasured Journey Guides and Spiritual Midwives—companions both old and new, near and far, who light the path and lead the way with their own unique inspiration and wisdom as the journey unfolds.
Guides are essential for the journey. Without a library of mentors and the company of wise seekers in my life who have long been traveling the interior journey, I never would have stumbled upon the contemplative path in the first place. (And believe me, it feels like stumbling.) Over the past decade, these voices have arrived on my metaphorical doorstep, slowly awakening me to the contemplative path, encouraging me to journey within.
First there was Donald Miller, Rob Bell, Shane Claiborne, and Brian McClaren, who pushed the boundaries of my conservative evangelical upbringing. Sue Monk Kidd soon followed, introducing me to mystery and the Sacred Feminine. Thich Nhat Hanh set me on a path to discover meaning beyond my own tradition. Elizabeth Gilbert met me as I was about to set off on my own global journey with candid and poignant tales of how travel can transform. Kathleen Norris taught me how to find God in the everyday, and Eckhart Tolle and Marianne Williamson gave me new language to understand brokenness and redemption when the old words had become so dry and distorted they had lost their meaning.
Over the past few years, a collection of poets have joined the ranks: The beloved Sufi mystics Rumi and Hafiz guide me with their spiritual wisdom that transcends the confines of time and religion. The works of Mary Oliver teach me that simply noticing is also prayer and that often it is all that is required. And then there are the blessings written by John O'Donohue, which serve as a prophetic voice to my journey never cease to "quicken [my] soul with wonder" (his own words, from "A Blessing for Longing").
All in all, it's a hodge-podge list, containing traditional and contemporary guides alike, and is by no means exhaustive. Many of the more prominent figures in contemplative spirituality have yet to be explored. But these are the voices who have guided me on this path thus far—Richard Rohr simply one of the latest among them—and they continue to light the Path of the Pilgrim I seek to walk each day, illuminating essential truths along the way.
What about you? Which voices have guided you thus far, serving as journey guides and spiritual midwives when you needed them most?

GO FURTHER: VADE MECUM INSPIRATION JOURNAL
I've talked about Vade Mecums here before, and today I'm releasing my own version of a Vade Mecum in the Journey Shop, ready and waiting to be filled with your own inspiration. 
Meaning "go with me" in Latin, a Vade Mecum is the original guidebook and is both a handbook for the Seeker and a liturgy for the soul. Used by pilgrims as far back as the 11th century, a Vade Mecum contains practical information for the journey as well as words of inspiration to accompany the pilgrim as the journey unfolds.
Now you can make this practice your own with the Vade Mecum Inspiration Journal. Screen printed by hand on a Moleskine pocket-sized cahier journal, this Vade Mecum contains 64 blank pages ready to be filled with words from poetry, scripture, and favorite authors to inspire you on your journey and guide you on your path. Learn more in the Journey Shop »
Note: I only print in small batches, so if they're sold out rest assured there are more to come!
---
LAUNCHING MAY 31
I'm launching my biggest project yet on May 31—Journey Guide: A Step-by-Step Pilgrimage Companion for the Journey of a Lifetime—and I'm counting down by releasing new products for the pilgrim at home and abroad every week this month. Sign up to receive updates so you don't miss a thing!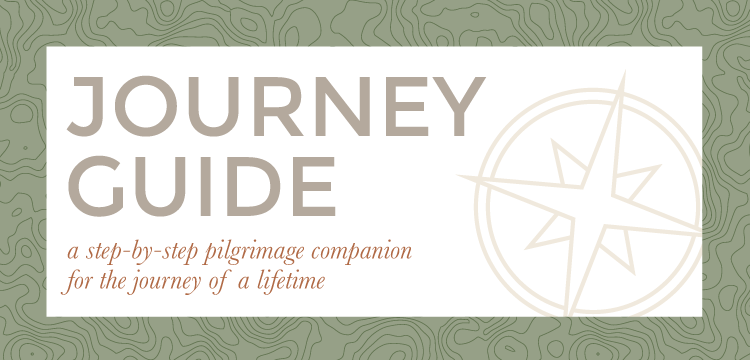 Like this post? Sign up below to receive updates on offerings, products, and free resources so you don't miss a thing! You'll also receive an instant download of the Principles Rule of Life, including seven guideposts and practices for living and traveling like a pilgrim.
Privacy Guarantee: Your information will never be shared. View Privacy Policy.