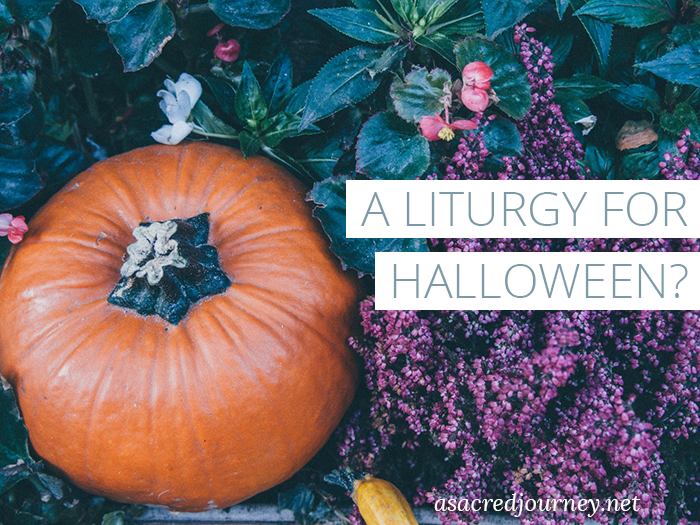 It's a rainy Halloween here in Seattle, and I have no plans of going out this evening.
It's likely that no trick-or-treaters have plans of stopping by, either—we live on an arterial route, and it seems the kids tend to stay on the quieter streets. While I have a soft spot for anything festive and do love seeing kids in costume (and eating my share of the candy), that's okay by me. Since spending time in Ireland and learning more about the Celtic tradition and the invitations of the liturgical year, Halloween and the days that follow have taken on new meaning for me.
Although today Halloween is a family-centric folk holiday focused on costumes, candy, and light-hearted frights (a healthy opportunity to play with our fears, I might add), when we think of the origins of the holiday a spookier era comes to mind—a time rife with witch trials, hauntings, and superstition. In truth, though, the roots of Halloween, far removed from today's manifestations, stem from quite ordinary places.
It is the Celtic feast of Samhain, pronounced sow-in, that inspired what we today call Halloween. The last of four major feasts in the Celtic calendar, Samhain takes place on November 1, celebrating the end of the harvest and marking the transition from the light half of the year to the dark. However, with new days beginning in the evening in the Celtic tradition (as with many other traditions, including the Christian liturgical calendar), the feast of Samhain actually begins at sundown on October 31.
Because the earth and the seasons were such great spiritual teachers for the Celts, this shift from light to darkness had spiritual significance as well. With the onset of darkness, the Celts—so outwardly focused in the light half of the year due to their agrarian tradition—found invitation to turn inward, both within their homes as well as within themselves.
Through this introspection, they experienced connection not only with their deeper selves but with those who had gone before them. To the celts, the beginning of this season of darkness was very "thin" indeed, a concept that you might recognize from our previous explorations of thin places—a place or moment in time in which the veil between heaven and earth is thin and the sacred and secular seem to meet.
In the beginning of the 8th Century, Celtic Christians began celebrating Samhain as All Saints' Day, a liturgical holy day which recognizes "the great cloud of witnesses" (Hebrews 12:1) who have passed before us who model the love of Christ. (Because it commemorates the holy or "hallowed," in its earlier days All Saints' Day was also known as "All Hallow's Day," hence "All Hallow's Eve" or "Halloween"). In time All Souls' Day followed, a day to remember loved ones who have passed, celebrated on November 2.
This year, to add some meaning to your Halloween and the days and weeks to come, consider following in the footsteps of these early Celts and Celtic Christians—an excellent reorientation to intention and ritual as we close out the long season of Ordinary Time and anticipate the liturgical year to come.
As the earth slows down and the days grow dark and seemingly thin, transition your focus inward, inviting the wisdom of those who have gone before you—both in influence (saints and spiritual guides) and in blood (your ancestors and loved ones)—to speak into your life. Here are five practical ideas to get you started:
PRACTICES FOR HALLOWEEN, ALL SAINTS', ALL SOULS', + BEYOND:
Set aside time to reminisce over ancestors who have passed and make an altar out of photos or objects handed down, lighting a candle as darkness falls each day.
Pay attention to your dreams—a thin place we have access to each day—and see if any wisdom for your journey is trying to break through.
Take a walk and ponder how the falling leaves can serve as a metaphor for the shedding of the false self as you journey toward your hibernating soul.
Celebrate the harvest by cooking hearty soups and stews, and add a touch of rosemary—an herb that symbolizes remembrance—to call you back to the invitations at hand.
Seek the wisdom of journey guides and spiritual midwives no longer with us by reading their poetry, essays, psalms, rules of life, and manifestos. (A new one on my list: Simone Veil)
Happy Halloween and a blessed season of remembrance!
PS: I'm starting a new monthly newsletter today with content you won't find anywhere else, including practices of the month and quotes to download as your phone or desktop background. Subscribe here so you won't miss the next one »
Like this post? Sign up below to receive updates on offerings, products, and free resources so you don't miss a thing! You'll also receive an instant download of the Principles Rule of Life, including seven guideposts and practices for living and traveling like a pilgrim.
Privacy Guarantee: Your information will never be shared. View Privacy Policy.