This post is by Kayce Hughlett, our Pilgrim in Residence for January 2014. Kayce will share with us each Thursday in the month of January. Learn more about Kayce here.
"Lift your eyes round about, and see;
They all gather together, they come to you.
Your sons will come from afar,
And your daughters will be carried in the arms.
Then you will see and be radiant,
and your heart will thrill and rejoice;
Because the abundance of the sea
will be turned to you,
The wealth of nations will come to you."
Isaiah 60:4-5
Pilgrimage is one of my favorite topics. When I recently told someone I was working on a new book about pilgrimage, she asked where I'd traveled recently and what journey I'd be documenting. Hearing her question, I paused for a moment (a valuable trait I employ when considering which direction to take) and responded, "I believe life is a pilgrimage."
I never intended to become a pilgrim. In fact, growing up in land-locked Oklahoma, the only pilgrims I knew about were the ones in funny black and white hats that popped up around the Thanksgiving holiday. So, when Lacy invited me to be A Sacred Journey's Pilgrim in Residence for January, I began to ponder what approach I might take. What map or plan did I want to follow? Would I delve into my exotic adventures to Cairo, Vienna, Spain or Ireland? Perhaps I could tell you about my urban adventures to Paris, France, the city of my heart. What if I shared my personal journey from good girl to risk taker and accountant to author? From Dramamine-drugged car passenger to proud passport holder?  All of these journeys are testaments to my way of being a pilgrim in the world.
The feast day of Epiphany was this past Monday, January 6. It commemorates the coming of the Magi to visit the Christ child. The Magi were early day pilgrims. They journeyed to foreign lands, bringing gifts, and seeking light. They traveled with an intention in mind and listened to their intuition and dreams. "And having been warned by God in a dream… they departed for their own country by another way." (Matthew 2:12)
My hunch is that the Magi were changed by their adventure; that they did not return home as the same men who left. We don't hear much about them after they departed Bethlehem, but as they traveled through new lands, they must have been required to call upon skills of language, navigation, and intuition to see them safely through their journey… all traits of a modern day pilgrim.
An epiphany is also defined as a sudden, intuitive perception into the essential meaning of something. My personal epiphany came when I realized I had switched from being a tourist (while traveling) or a resident (while at home) and was living the life of a pilgrim—moving through life with curiosity, intention, and a willingness to be impacted by my surroundings.
In my eyes, a pilgrim seeks meaning in the everyday. She brings herself fully into the presence of her surroundings and opens herself up to be moved and impacted by that time and place. A pilgrim is fluid not rigid. A pilgrim seeks the light and knows that darkness is a necessary part of the journey. A pilgrim welcomes the stranger and wrestles with what it means to be that stranger.
To be a pilgrim is to set out on a journey. Like a story, there is a framework—a beginning, middle, and end. There are opening pages and a closing chapter. The choice of the pilgrim is to allow and welcome wildness between those start and end points.
GO FURTHER…
What if you picked a place or time and began a pilgrimage today? The New Year is a perfect place to begin. What if you decided this is your year of pilgrimage whether at home or on the road? What if you set your sights on your own North Star and followed it with intention and welcomed in the wildness? What if you allowed the 'abundance of the sea' and the 'wealth of nations' to come to you?
TODAY'S GIVEAWAY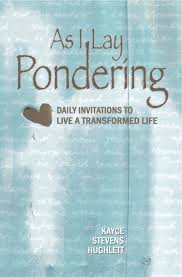 Kayce is giving away a copy of her book, As I Lay Pondering: daily invitations to live a transformed life. I bought my own copy when it came out two years ago and it has offered me guidance many days since. To enter, follow the instructions below. All entries must be made by Wednesday, January 15 at midnight PST. The winner will be announced right here on A Sacred Journey on Thursday, January 16.
other giveaways you can still enter
WEDNESDAY'S GIVEAWAY
I'm giving away a copy of Danielle LaPorte's The Desire Map book, one of my greatest tools as I've sought more clarity over the past year has been Danielle LaPorte's Desire Map and determining my Core Desired Feelings. Click here to go to Wednesday's post to enter. All entries must be made by Tuesday, January 14 at midnight PST. The winner will be announced right here on A Sacred Journey on Wednesday, January 15.
TUESDAY'S GIVEAWAY
Yesterday I shared on my friend Ashley's blog, The Cream to My Coffee. Head on over to enter to win a copy of Pilgrim Principles: Journeying with Intention in everyday life. This giveaway is only happening at The Cream to My Coffee, so you must enter there to win. Click here to go to the guest post to enter. All entries must be made by Monday, January 13 at midnight PST. The winner will be contacted by Ashley of The Cream to My Coffee.
MONDAY'S GIVEAWAY
You still have time to enter for a chance to win a copy of the pilgrim-favorite, The Way, about a father's journey along the Camino de Santiago de Compostela after the loss of his son. Click here to go to Monday's post to enter. All entries must be made by Sunday, January 12 at midnight PST. The winner will be announced right here on A Sacred Journey on Monday, January 13.
Like this post? Sign up below to receive updates on offerings, products, and free resources so you don't miss a thing! You'll also receive an instant download of the Principles Rule of Life, including seven guideposts and practices for living and traveling like a pilgrim.
Privacy Guarantee: Your information will never be shared. View Privacy Policy.