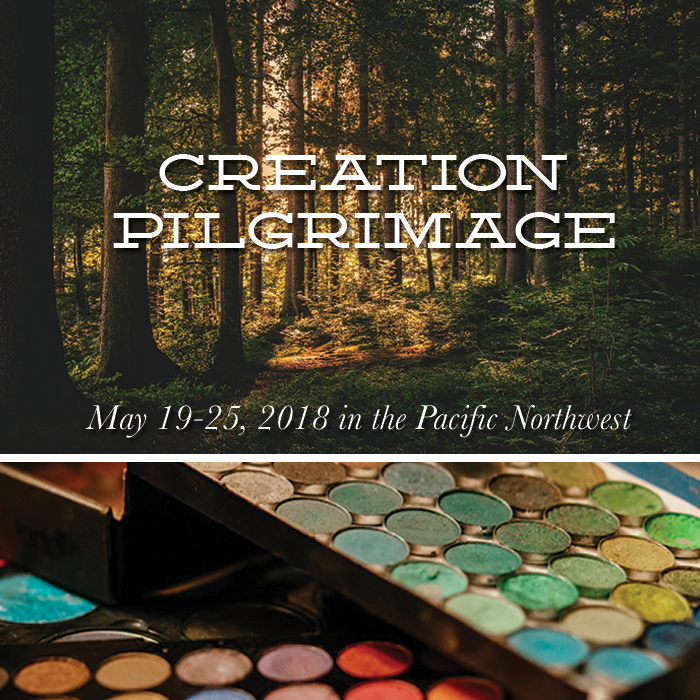 Today I'm excited to finally announce A Sacred Journey's next pilgrimage opportunity!
Join me May 19-25, 2018, for a Creation Pilgrimage as we journey to the heart of nature in the beautiful Pacific Northwest. Nestled amongst tall pines, mountain peaks, and flowing streams, we will seek to know more of the Divine and ourselves through God's first revelation: Creation. Inspired by The Book of Creation by John Philip Newell, our days will follow each of the seven days of the Creation Narrative and what they reveal about the Creator and ourselves as image-bearers and co-creators.
Each day will be shaped around a liturgy of the hours, with matins and vespers prayer services of word, song, practice, and silence, and mornings and evenings of engaging the earth and exploring our creativity while resting in the rhythms and gifts of community. We will draw from creation as our text and the creative impulse as our guide, listening for the gentle stirrings of the Sacred and the True Self each step of the way.
Do you…
feel a call to go on pilgrimage or spend time on retreat?
find spiritual connection in nature or want to experience more of God through creation?
long to be immersed in spiritual exploration and community rhythms?
want to explore your creativity within?
value seeking God both in solitude and in community?
desire to deepen your faith with spiritual practice and rituals?
yearn to know yourself and the Divine in new and deeper ways?
Then this pilgrimage is for you!
When you register, you'll also receive a big bonus—FREE access to Journey Guide, a multi-media travel resource infused with soul, to guide you on your personal journey (a $97 value). And there's more—when you register by November 30, 2017, you'll SAVE $200, plus you'll also get to participate in my upcoming Pilgrim Principles Online Course for FREE! (A $97 value—launches in the new year.)
If you're interested in joining me, I'd suggest registering as soon as you can to not only get these amazing bonuses and savings when you register by November 30, 2017 (which total $394 if you're counting), but to also reserve your spot—my last pilgrimage filled up in less than 30 days!
Are you ready to say "yes" to the journey? Click here to learn more and register, and contact me here with any questions!
Like this post? Sign up below to receive updates on offerings, products, and free resources so you don't miss a thing! You'll also receive an instant download of the Principles Rule of Life, including seven guideposts and practices for living and traveling like a pilgrim.
Privacy Guarantee: Your information will never be shared. View Privacy Policy.